What is cottagecore: The vintage-inspired rural fashion trend
We explain what is cottagecore, and show you how to get the rural loving fashion trend that is sweeping the runways.
Searching for the answer to what is cottagecore? One of the more recent recurring summer fashion trends, it's a fashion and lifestyle aesthetic that began on social media and draws inspiration from simpler times. Inspired by romanticized views of the English countryside, think handmade crafts, home-baked bread, natural materials, floral dresses and straw hats. A nod to traditional living and style, cottagecore as it has been named, is much more than just a fashion trend, it's a way of life. 
Tapping into the idea of sustainable living, the movement is seen as a reaction against consumerism and time spent with technology, fostering a desire to get back to a simpler, technology-free life. Growing in popularity, particularly during the pandemic when so much of our interactions were forced online. This idealized aesthetic initially proved popular as a home decorating trend, which mixed vintage accessories with home-spun creations to create rural idyls even in city locations. However, it's now jumped onto the runway and shows no sign of slowing down anytime soon.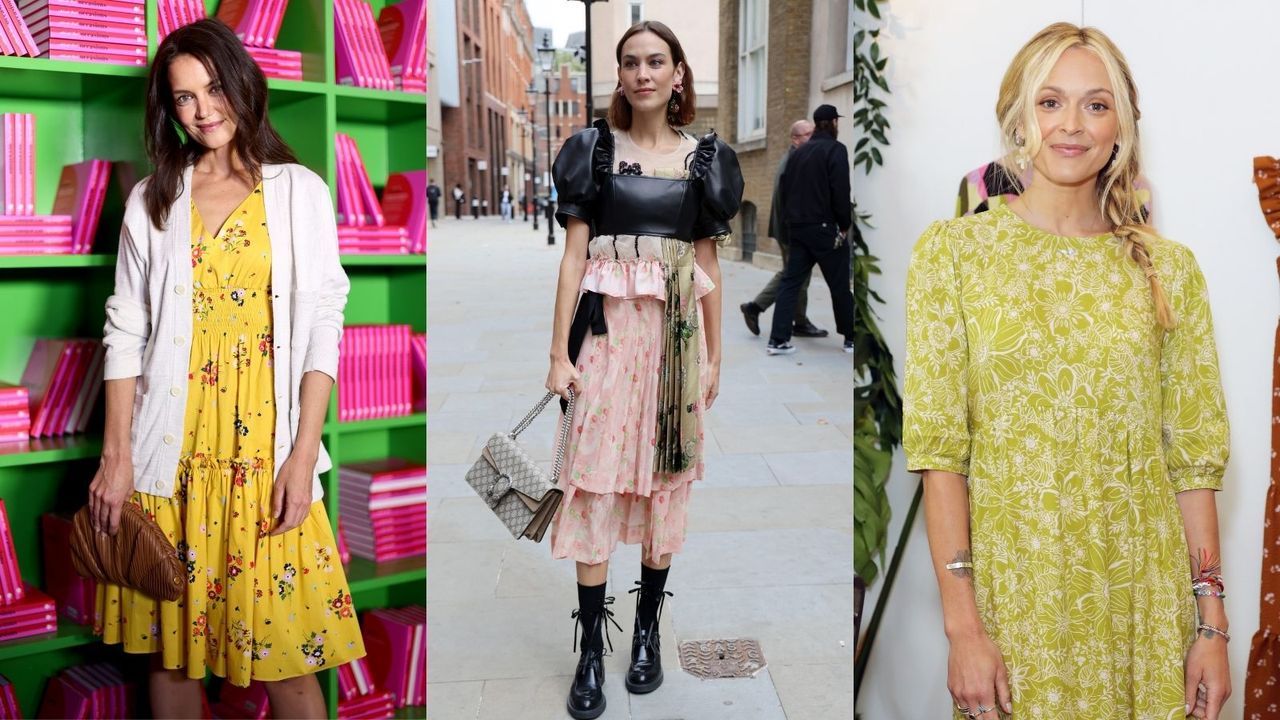 What is cottagecore?
To truly understand 'what is cottagecore?', you have to investigate the style's nostalgic roots. Ironically starting out as a social media trend, the movement as a whole is about living a simpler and technology-free, or technology-limited life – however, when it comes to fashion, it's largely about the aesthetics.
"Cottagecore was first popularised over lockdown as disillusioned young people yearned for the outdoors and a return to a simpler time," explains Louisa Rogers, founder of sustainable style brand Studio Courtenay (opens in new tab).
Louisa continues: "On TikTok, cottagecore became a way to romanticize your daily 'sanctioned' walk and make it feel not only meaningful but desirable. It was largely a reaction to increased screen time as people studied, worked and socialized from home and on-screen – so it is somewhat ironic that it gained so much traction on TikTok,"
Its popularity as a fashion and home decorating trend (think beautiful cottage garden ideas) also taps into the need to be more sustainable when it comes to shopping and has tied in well with some of the best sustainable clothing brands.
"Post-COVID a lot of consumers are looking towards slow fashion – pieces that have been made with care and attention rather than fast fashion," says stylist Emma Lightbown (opens in new tab).
If you're looking for the best fashion bloggers for cottagecore inspiration, look to the likes of Ramona (opens in new tab), Paula Sutton (opens in new tab) and Valeriya (opens in new tab) who fill their Instagram feeds with dreamy images, roaming through bluebell fields in the best dresses and dreamy straw hats.
As ever with any trend, celebrities have embraced it wholeheartedly with the likes
of Katie Holmes, Alexa Chung and Fearne Cotton (who has recently designed a collection with sustainable fashion brand Nobody's Child (opens in new tab)) all sporting the rural-inspired look on various occasions.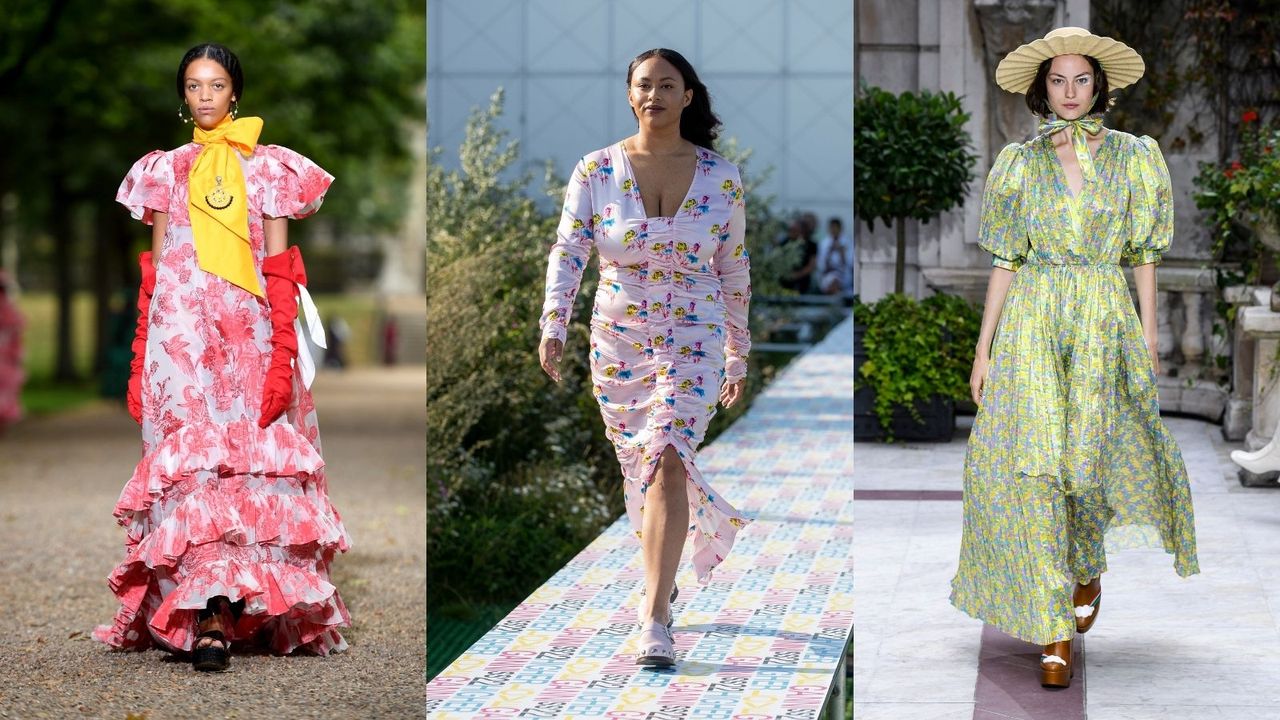 What is cottagecore fashion?
If you're not tempted by the best online vintage shops, some of the best indie brands who have nailed the cottagecore aesthetic include Sister Jane (opens in new tab), Nobody's Child (opens in new tab), and Albaray (opens in new tab) – which not only favor the look but are also making the right moves towards sustainability. Some of the best American clothing brands to shop this trend at include Dynasty George (opens in new tab) and Hill House Home (opens in new tab), which created the now Insta famous Nap dress. 
As one of the most romantic fashion trends 2022  has to offer, you're probably already embracing cottagecore without realizing it. If you've worn a flowing floral dress, dungarees, a peasant blouse or carried a straw bag, you've already nailed cottagecore effortlessly. 
Despite cottagecore advocates believing very much in vintage and home-crafted fashion, the look has found its way onto the runway thanks to the likes of Paul & Joe, Ganni and Erdem who sent voluminous prairie dresses, pretty floral prints, straw bonnets and crochet cardigans down the runway.
"Cottagecore fashion embodies part of that aesthetic with a lot of vintage and thrifted pieces throwing back to the old "make do and mend" ethos of past generations," says Emma.
She continues: "The key pieces to look out for are ditsy florals, a soft feminine color palette of pastels and neutrals and of course a straw boater accessorized with a ribbon."
If a full-on rural look isn't for you, you can still embrace the trend with accessories. In this case, if it looks hand-crafted, then it's cottagecore. Think natural materials such as raffia, alongside floral fabrics, to create the ideal accessory. A simple way to add a nostalgic element to your look is by working out how to wear headbands. For cottagecore it's all about going big with vintage knot headbands and floral headscarves in the style of 1940s land girls.
Sustainability is a major factor of the trend, and many influencers choose second-hand over new, or shop from sustainable fashion lines for their wardrobe essentials.
Sustainable stylist (opens in new tab) Cassandra Dittmera really hopes that cottagecore isn't a flash in the fashion pan and that more people begin considering the impact their fashion choices have on planet earth.
"I hope the aesthetic trend of cottagecore inspires us all to actually think about the source of where our clothing comes from to better understand and appreciate the resources, craftsmanship and effort that goes into what we wear, and move away from viewing clothing as fast and disposable," she states.
How to wear cottagecore
We've pulled together our favorite cottagecore pieces to help you nail the trend.
Best dresses for cottagecore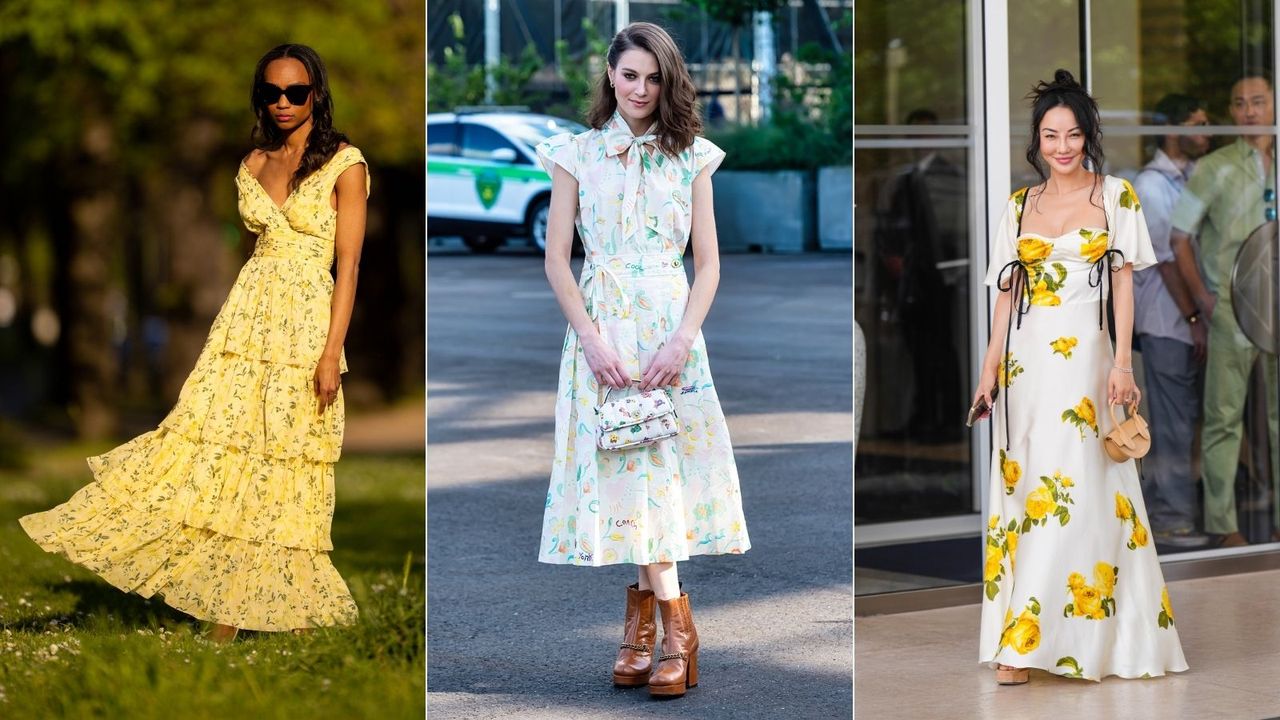 Your dress should make you look like a woman of yesteryear, one at home among a field of lavender or while making jam. The best cottagecore dresses feature puff sleeves, peter pan collars, shirred panels and pretty vintage patterns, such as florals or gingham.
Some of the most stylish dresses to hide a tummy – they're floaty and allow plenty of room for that hearty picnic or homemade feast (all made with sustainable produce obviously!) – making them great for both pear-shaped bodies and apple body shapes. The best petite dresses in this style still have volume, but are a shorter length, so that they won't swamp the wearer.
While they're the ideal dress to wear to an occasion with a heel, a hat and a whimsical handbag, they're also fantastic with a pair of Converse and your best denim jacket to create the perfect weekend look.
2. Best cottagecore tops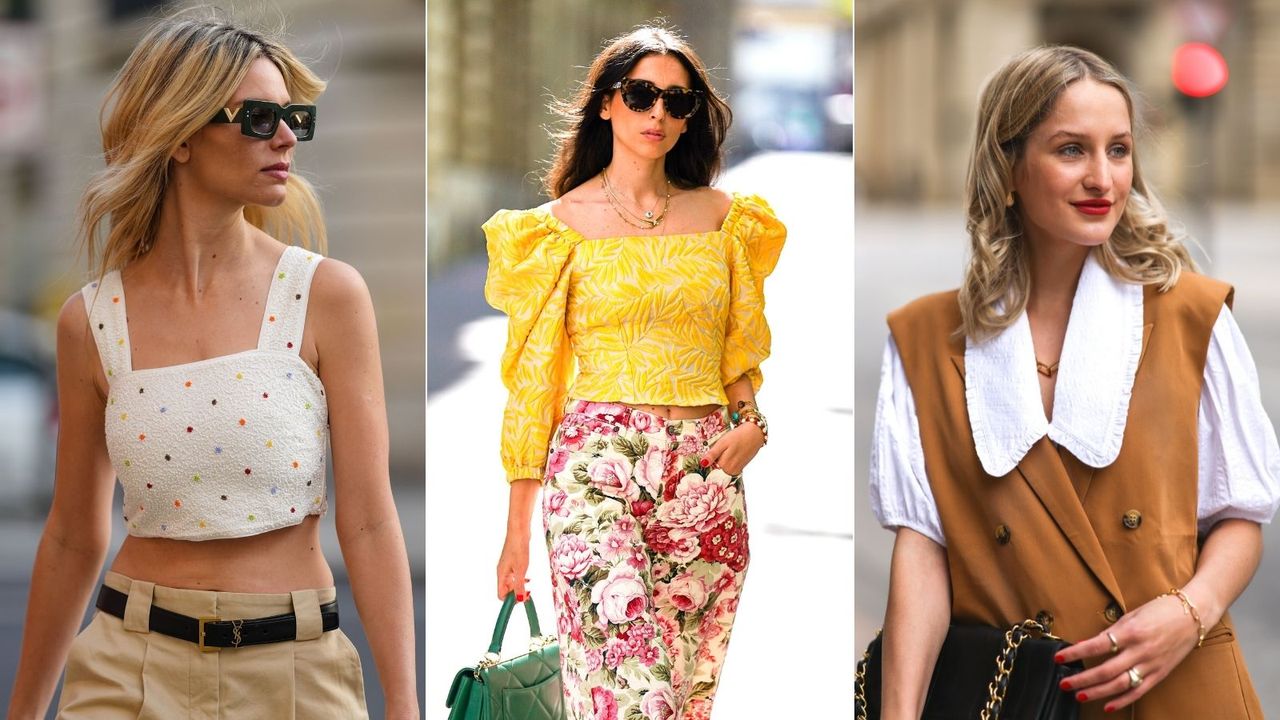 Think pure romance when it comes to cottagecore tops. Shirring, floral prints, corsets and cute, oversized collars all help give that nod to vintage rural life. And if you don't want to look like you've come in full-on cottagecore fancy dress, team them with your best jeans for a perfectly modern take on the pretty trend.
3. Best cottagecore bottoms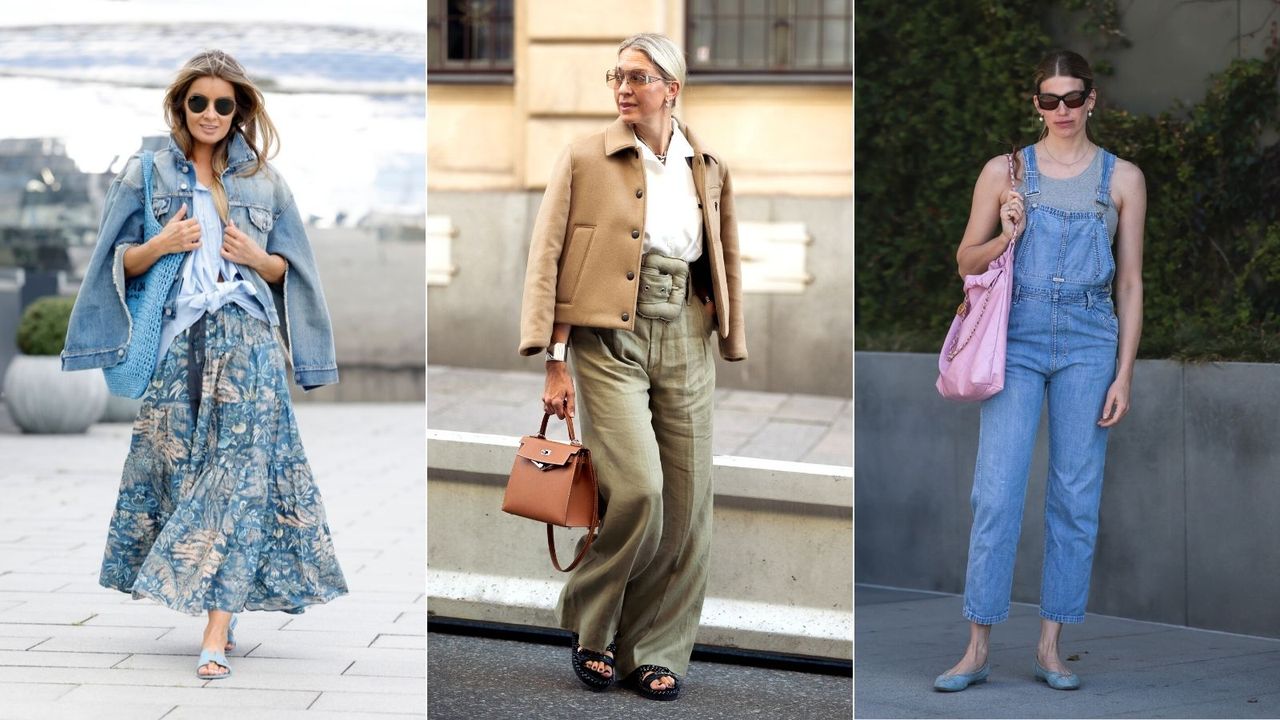 While romance and prettiness are at the core of this trend, there's also a huge dollop of practicality – after all, it takes its inspiration from the rural English countryside of yesteryear.
Overalls and dungarees have their place here, but fear not if you prefer your fashion ladylike, as skirts are also a must-have. Think simple '40s and '50s circle shapes in gorgeous retro fabrics, which suit every body type.
Best cottagecore shoes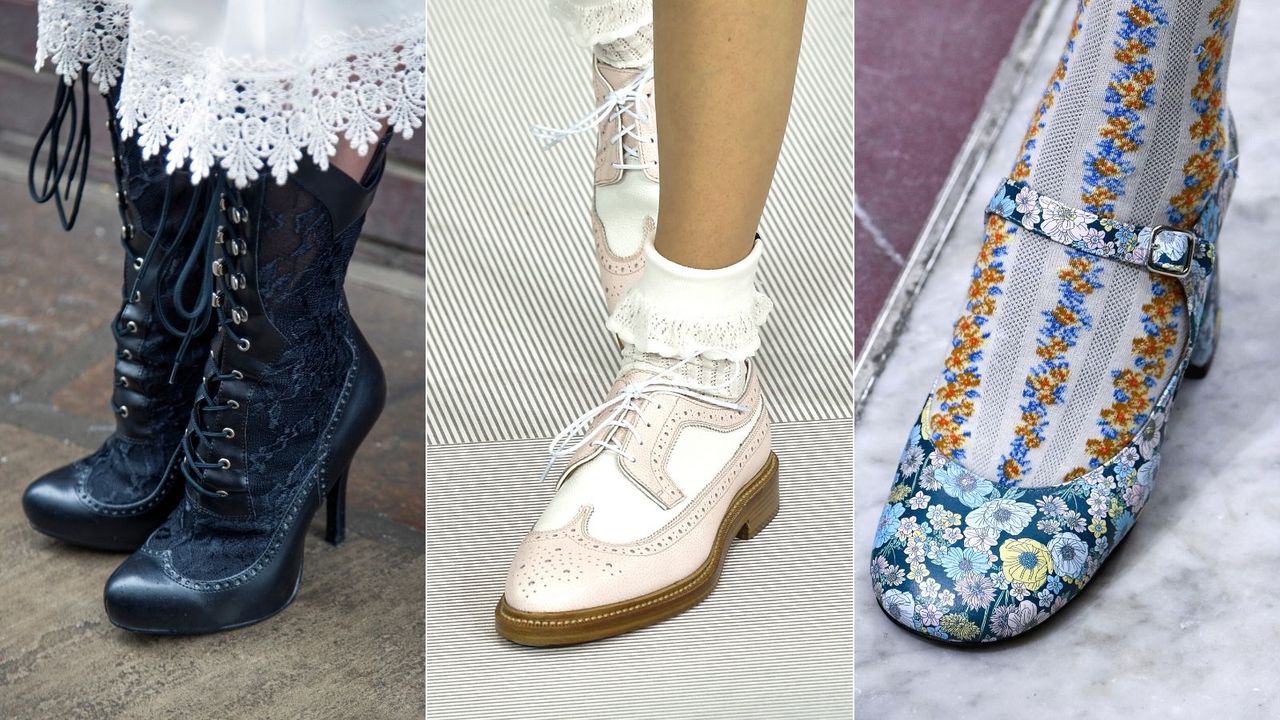 Cottagecore shoes can be any of the vintage classics such as brogues, a ballet flat or even a white canvas tennis shoe. Boots are also popular and often reflect more of the rural farmyard element of this look – such as walking boots, wellies or Victorian-style lace-up boots.
The most popular shoe style however is also one of the shiniest shoe trends 2022 has thrown up – a patent Mary Jane. Chanel, Dior and Simone Rocha sent variations of this vintage footwear trend down the runway and the look has now filtered into the mainstream.
To get the full cottagecore look, footwear should be worn with a lace-trimmed or ruffle sock, but if that feels a little too much of a blast to your school past, tights or bare feet are also acceptable.
Best cottagecore bags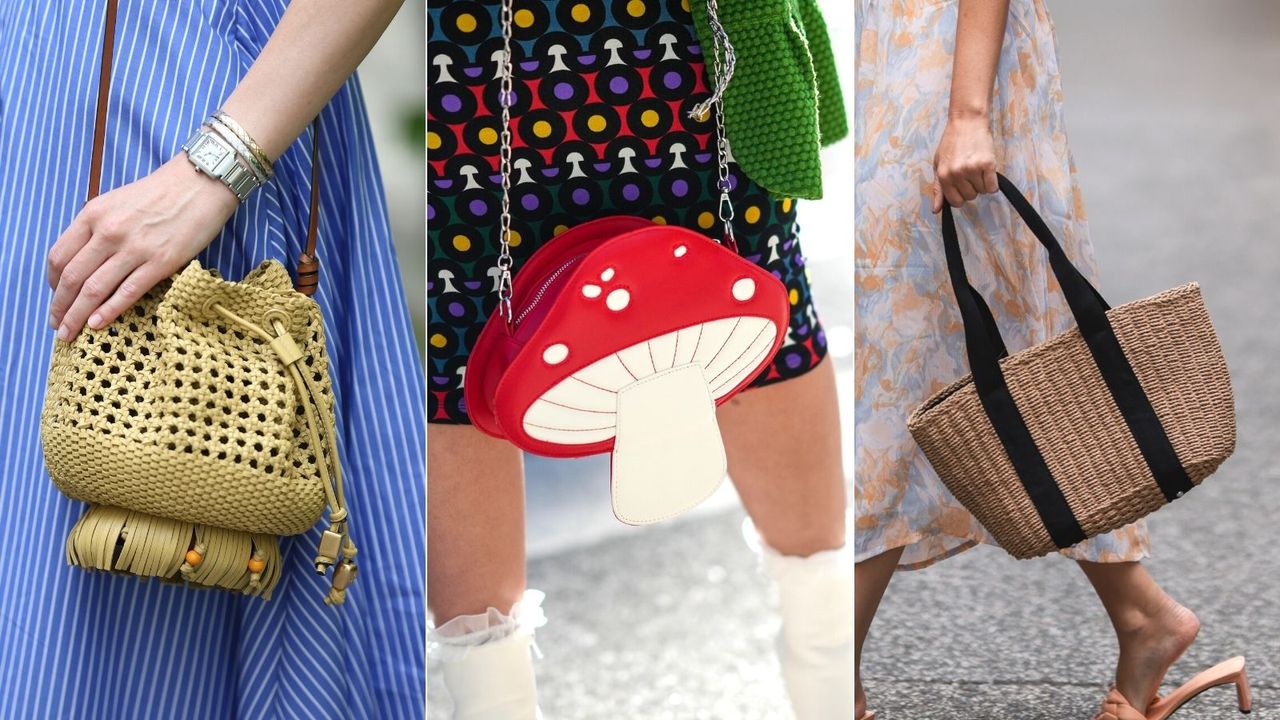 While you may be carrying your best tote bags into work or down the shops, as with all cottagecore accessories, you need to put yourself into the mindset of an English country lady. Think natural materials, blooming flowers and embroidery, which will all help capture the outdoorsy vibe of the cottagecore aesthetic. 
One of the chicest handbag trends 2022 has brought to the fore is the wicker or raffia bag. Not just one of the best beach bag styles, there are now plenty of iterations that look just as good in the city on a night out or in the countryside at a picnic.