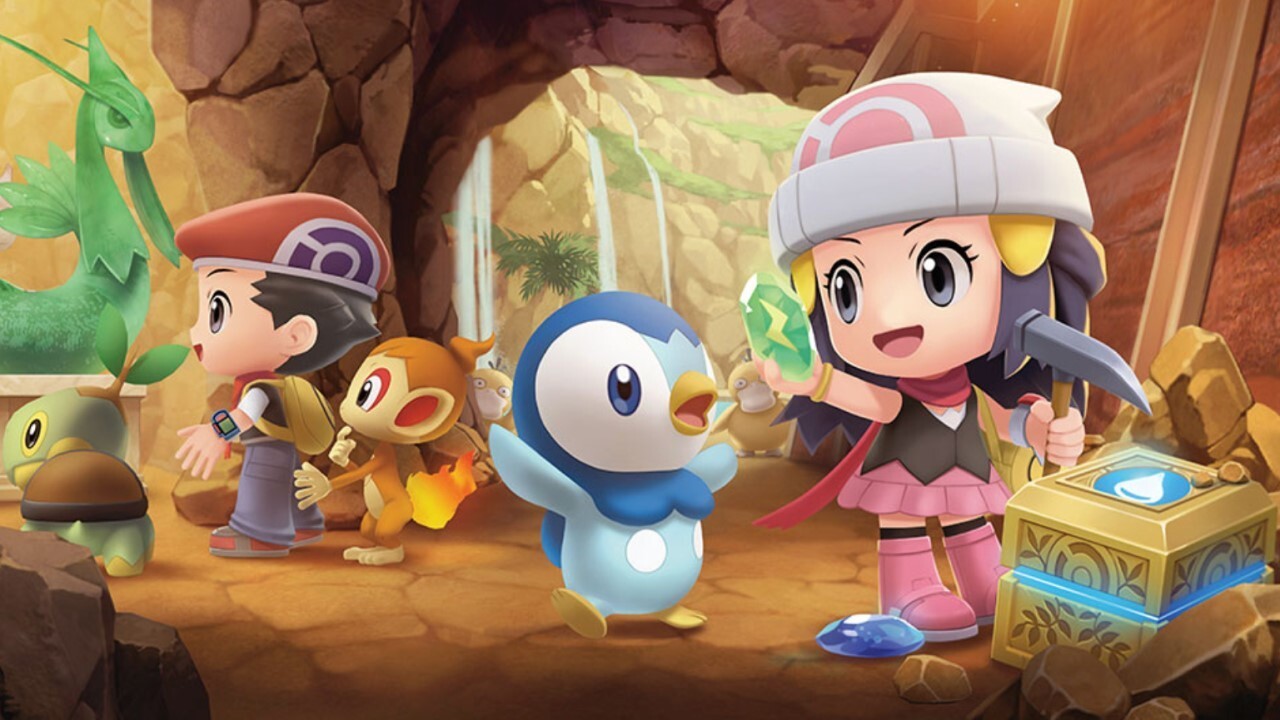 Upcoming Nintendo Switch Games And Accessories For November And December 2021
You hear that? That is the sound of inevitability 2022 racing up on you while you're busy getting over October. Yes, we're into the 11th hour month of the year and we've taken to amusing ourselves with the little-used but thoroughly entertaining strikeout tool in our article intros. It's been a long year, okay!
A long game-filled year, to be precise, and it's not over yet. Nintendo still has a heavy-hitter or two coming in Switch's 2021 line-up that should help make the holidays very happy this year for Switch-owning gamers. Yep, Tiny Tim's getting half a pea and eShop credit under the tree this year, the lucky little fella.
Below we've listed some of the upcoming highlights of big Switch games scheduled for November and December. Beneath those physical launches you'll also find a selection of other games releasing from November — usually physical versions of previously digital-only Switch eShop games — plus a selection of Switch accessories and related peripherals available in the coming months as we start looking to the New Year and beyond.
Enjoy!
Ah yes, we're getting our annual fix of Just Dance on Nintendo hardware. While it's easy to be jokey about the series, it is enduringly popular, especially on Nintendo hardware. This one's not coming to Wii when it launches on 4th November, though.
The upcoming Pokémon Dialga & Palkia Edition Switch Lite is being released a couple of weeks prior to the launch of Pokémon Brilliant Diamond and Shining Pearl. This fetching console not only bears the images of the two titular Legendary Pokémon, but also mirrors the Special Edition DS Lite console which launched in North America and Japan with the original DS Diamond and Pearl.
This more subdued livery joins the colourful roster of Switch Lites currently available, which includes Yellow, Turquoise, Grey, Coral and Blue, not to mention the previous Pokémon Switch Lite, the Zacian and Zamazenta Edition console.
The first GTA release on a Nintendo system since the rather good Chinatown Wars on DS, Grand Theft Auto: The Trilogy collects GTA 3, GTA: Vice City and GTA: San Andreas in one package with "across-the-board enhancements" to bring the ageing classics closer to modern spec. It's been a long wait for a 'proper' 3D GTA on a Nintendo console, so we're intrigued to see how this trilogy hold up.
This Switch exclusive from Atlus was first announced way back in 2017. We've had to wait a while for it, although Shin Megami Tensei III Nocturne HD Remaster arrived on 25th May, so SMT fans on Switch have had something to chew on for the last few months until the new game hits.
Revealed as part of Nintendo's E3 2021 Direct presentation, the Game & Watch: The Legend of Zelda handheld is a cute little device that let's you play three classic Zelda games on a retro-styled Game & Watch system similar to the Super Mario Bros. version which launched last year.
A tribute to the action-adventure series' 35th anniversary, the full games included on this gorgeous little device are the original NES Legend of Zelda, Zelda II: The Adventure of Link and Game Boy's The Legend of Zelda: Link's Awakening. Neat!
Announced as part of February 2021's Pokémon Presents showcase celebrating the franchise's 25th anniversary, Pokémon Brilliant Diamond and Shining Pearl are Switch remakes of the DS entries that lacked the extra adjectives
Fifteen years since the original Pokémon Diamond and Pearl brought Gen IV and the series to a non-Game Boy handheld, we'll get to relive our Sinnoh days on Switch through the lens of a chibi style unique to the series (so far).
There's also the Switch Lite Pokémon Dialga & Palkia Edition releasing a couple of weeks earlier on 5th November if you can't get enough of new Switch hardware.
Announced on a quiet Thursday in early September, the Big Brain Academy series — the slightly more relaxed sibling of Brain Age / Brain Training from back in the Nintendo DS era — is back in December with Big Brain Academy: Brain vs. Brain on Switch.
Featuring 4-player brain-based bouts, you'll also be able to battle brainiacs from around the world via a new online where you challenge other people's ghost data in a brain vs. brain sorta scenario. It's out on 3rd December and looks like decent family fare for the holidays.
Four helpings of Danganronpa are dropping on the same day, this 10th anniversary edition of Danganronpa: Trigger Happy Havoc arrives on the same day as Danganronpa 2: Goodbye Despair Anniversary Edition, Danganronpa S: Ultimate Summer Camp and Danganronpa V3: Killing Harmony Anniversary Edition.
That's a whole lot of Spike Chunsoft's visual novel-ing for a single day, but dagnabit if we're not down for Danganronpa! Busy day, December 3rd.
More Awesome Nintendo Switch Games
Aside from the highlighted games above, there are lots more Switch retail games which might take your fancy in November and beyond.
Awesome Accessories For Your Switch
And finally here are a selection of the finest Switch accessories coming up in November and beyond, for your consideration.
---
So that's it for November and December — did we miss anything? Let us know with a comment and also tell us if you've pre-ordered any of these goodies!

https://www.nintendolife.com/guides/upcoming-nintendo-switch-games-and-accessories-for-november-and-december-2021