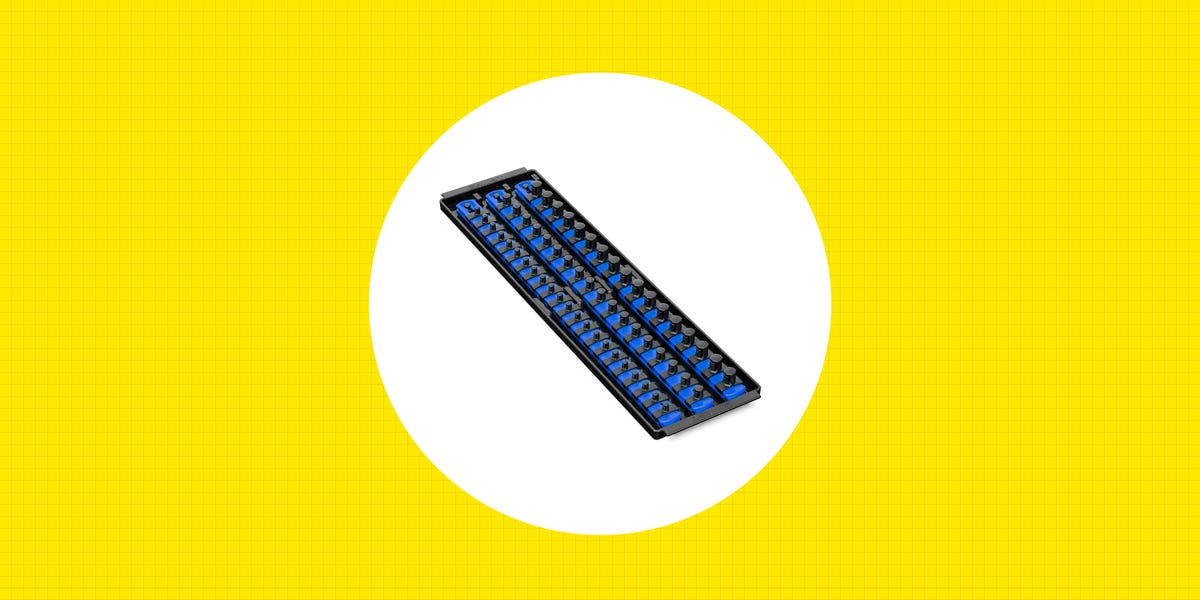 Trick Out Your Toolbox with These Helpful Accessories
As a wrenching enthusiast, your toolbox is your pride and joy. After all, it stores the tools that let you do what you love. However, there are plenty of accessories you can add to improve your box—products that can help with organization, convenience, and cleanliness.
If you often find yourself working against the clock, consider these accessories to improve your efficiency. There's nothing that slows you down like missing a tool (hello, 10-millimeter?), so outfit your box to make it easy to find what you need. We talked to the garage gurus at Autoweek and built this list with a mix of their real-life recommendations and highly rated products on Amazon. Your tools will thank you!
Every Mechanic Should Have a Drawer Dedicated to These Hammers
---
Advertisement – Continue Reading Below
Toolbox Liner
This toolbox liner comes in a huge 16-inch-by-16-foot sheet and is built with a grid design for easy measurements and cuts. It's three millimeters thick and prevents your tools from sliding around inside your toolbox drawers. This is a must-have in every box. 
Kaizen Sandwich Foam
For those who want even more protection, check out this Kaizen foam. This 2-by-4-foot chunk of foam can be easily cut to nest the tool of your choice into a protective bed. It peels in 1/8-inch increments to fit in any drawer depth. 
Drawer Organizer Pack
Having organizers for your tools is essential, and these bins are excellent for storing spare bolts, extensions, or fuses. This pack comes with eight different bins that interlock with each other to cater to a drawer's needs. 
18-Inch Socket Boss
Sockets can be notoriously hard to find, so a good organizer like this Socket Boss from Ernst is a must-have. It holds 57 sockets and locks them on with a twist function for portability. When you want a socket, simply twist and pull—boom, you're back to work!
Socket Tray Organizer Set
Some folks prefer socket trays that come without the twist-lock function like this set from OEMTools. This does make socket access a bit quicker, but you lose the portability. If you stick with trays, we like this set that features both SAE and metric trays. 
Wrench Organizer
Organizing wrenches is another smart thing to do, and this 15-slot organizer from Ernst does the job. The flexible teeth allow you to remove wrenches with one hand while locking them in enough to prevent them from spilling everywhere.
Plier Organizer Rack
You can't have too many pliers, and these organizer racks help keep them accessible. This two-pack features enough slots to hold 30 different pliers in varying sizes. 
Power Tool Storage Rack
Since battery-powered tools are taking over the market, consider this storage rack. Just slide the tool in battery-up, and the rack holds it for easy access. If you have a hutch on your box, that's a great place to install the rack. 
Extra-Wide Can Storage Rack
Wrenchers use all kinds of sprays, and this extra-wide storage rack keeps them ready to go. It claims to hold 12 full-size aerosol cans and measures 3 1/4 inches deep. There are holes on top for screw-mounting, or you can slap some strong magnets on the back to mount on your box. 
Heavy-Duty Power Strip
A power strip is especially handy these days, thanks to the many battery chargers we use. This 10-outlet heavy-duty strip features a strong surge protector, a six-foot power cord, and a wide space between each outlet to accommodate bulky chargers. 
Toolbox LED Lighting
A mechanic needs all the lights in the world, so why not stick some in your toolbox's hutch? These LED strips mount just about anywhere. The lights emit an impressive 1100 lumens to help you see each part of that carburetor you're rebuilding.
20V Bluetooth Speaker
You gotta have some tunes in the background when you're wrenching, and this bluetooth speaker from DeWalt does the trick. It features a 100-foot connectivity range and comes with a USB charging port and auxiliary input. If you don't have a 20V battery, the speaker comes with a power cord. 
High-Velocity Fan
You know how hot it gets in the garage on a summer day—a fan can be a lifesaver. We like this one from Lasko that features six different fan positions, so you can adjust where you want the breeze. It's compact, too—standing just 11 inches tall and leaving a 9-by-12-inch footprint. 
Minifridge
If you've got the room, a minifridge can be an awesome perk to have in or around your toolbox. This one holds up to 90 cans and can keep the temperature at 37 degrees. Thanks to its sleek design, it also looks great as it keeps your bevs and sandwiches ready for lunchtime.
This content is created and maintained by a third party, and imported onto this page to help users provide their email addresses. You may be able to find more information about this and similar content at piano.io
Advertisement – Continue Reading Below
https://www.autoweek.com/gear/g37706696/helpful-toolbox-accessories/