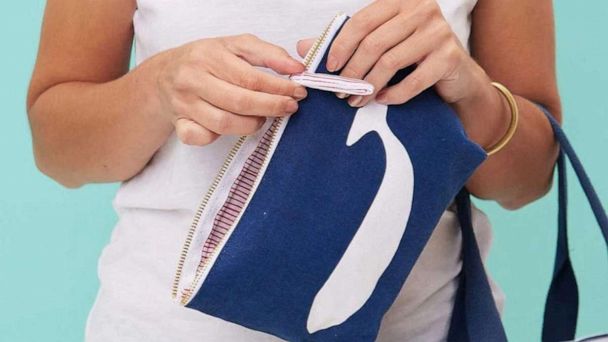 This Week from 40 Boxes: Save on fashion and accessories
---
This week, save on brands such as rockpaperflower, Youzey and more. These deals are only available while supplies last, so be sure to shop now.
Find all of Tory's exclusive offerings for "GMA" viewers at 40Boxes.com and remember to check back throughout the week, as new items are added daily.
1. Use the links provided below on the date(s) listed to receive the savings.
2. All deals are available only while supplies last.
3. Deals cannot be combined with other coupons and offers.
4. Shipping rates indicated are valid in the continental United States only.
NEED HELP? CONTACT TORY: If you need assistance with a deal, please email h[email protected]. The 40 Boxes team will respond to all viewer emails within two hours during standard business hours.
rockflowerpaper: Pouches & Scarves
GMA Deal: $10.99 to $23.99
•
35% to 39% Savings
Original: $16.95 to $39.95 Valid: 02/23/2023 to 03/05/2023
Add a pop of pattern to your every day. Rockflowerpaper is inspired by the colors, textures, and textiles from travels around the globe. Both the canvas and woven pouches make an ideal organizer for your stuff on the go. Take with you or keep on your vanity, no matter which you choose, these stylish pouches are sure to be a great companion anywhere. The decadent, brightly patterned scarf is cozy enough for winter and cool enough for fall and spring. Super soft and easy to wear, making a stylish gift for a special someone in your life (including you).
Youzey: Vegan Leather Handbags
GMA Deal: $24.50 to $28.50
•
50% Savings
Original: $49 to $57 Valid: 02/23/2023 to 03/05/2023
Express yourself with vegan leather accessories designed with function and fashion in mind so you can take on life in style. Choose from smaller crossbody styles for smaller essentials and larger handbags and totes for the days when you need it all. Boasting vegan leather and metal hardware, these pieces complete any look.
Cubitt: Smart Watches
GMA Deal: $44.98 to $59.98 + FREE SHIPPING
•
30% to 33% Savings
Original: $65 to $90 + FREE SHIPPING Valid: 02/23/2023 to 02/26/2023
Tracking health and fitness is made easier with Cubitt smart watches. This assortment includes three fitness trackers in five fun colors. All styles are waterproof with great functions like steps, distance, calories, sleep counting and more. Free shipping!
More from 40 boxes:
Passion 4 Life: Liquid Vitamins & Minerals
GMA Deal: $27.96
•
20% Savings
Original: $34.95 Valid: 02/22/2023 to 03/05/2023
Make prioritizing health a bit easier. Passion 4 Life, family-owned and operated and made with 135 whole food-based ingredients, offers a 32-ounce bottle of liquid alternative to hard-to-swallow vitamin pills. The formula is designed to take the guesswork out of supplements in every sip.
Barefoot Scientist: Foot Care
GMA Deal: $9.80 to $11.20
•
29% to 30% Savings
Original: $14 to $16 Valid: 02/22/2023 to 02/26/2023
Treat yourself to advanced foot care for happier, healthier feet. Fan favorites include the Reboot Exfoliation Foot Peel which helps rejuvenate rough, tired feet. This assortment also includes the Smooth Things Over Foot File and the Barrier4 Blister Prevention Spray. The spray has a fast drying formula that creates a durable, invisible barrier that blocks friction on skin where shoes rub back and forth.
truMedic: IMPACT Therapy Device Ultra Portable
GMA Deal: $89 + Free Shipping
•
31% Savings
Original: $129.97 + Free Shipping Valid: 02/22/2023 to 02/26/2023
Benefit from a massage anywhere with the IMPACT Therapy Device Ultra Portable. The device is powered by a quiet, brushless motor that won't disrupt people around you. This portable massager helps target deep into muscle tissue to break up knots and get the kinks out. Free shipping!
Slumber Cloud: Cooling Bedding
GMA Deal: $12 to $109.50
•
50% Savings
Original: $24 to $219 Valid: 02/21/2023 to 03/05/2023
Regulate your temperature for a comfortable night's sleep. Using technology originally designed and used in NASA space suits, Slumber Cloud's bedding keeps you cool and comfortable all night long. Ideal for hot sleepers, hot mattresses or hot bedrooms, Slumber Cloud bedding puts an end to pushing and pulling at the covers trying to find the perfect temperature. Designed to work independently for every sleeper, meaning if one person sleeps hot and one sleeps cool, it will work to keep both sleepers at the perfect temperature. Choose from sheet sets, mattress pads, pillows, pillow covers, blankets and tees.
Lullabuddy: Portable Lullaby Speaker
GMA Deal: $31.50
•
20% Savings
Original: $39.50 Valid: 02/21/2023 to 03/05/2023
Soothe your baby to sleep with Lullabuddy. This portable music player and speaker comes pre-loaded with two hours of Mae Robertson's award-winning lullabies and love songs. No streaming, no playlists to make, no device to connect and no internet needed — just press play for beautiful sounds equipped to help make bedtime a little easier. Small enough to take in the diaper bag, stroller, or car and easy to operate wherever you are.
Pristine Sprays: Cleansing Sprays
GMA Deal: $17.99 to $29.94
•
25% to 40% Savings
Original: $23.99 to $49.90 Valid: 02/21/2023 to 03/05/2023
Choose an eco-friendly alternative to flushable toilet and body wipes with Pristine Sprays. Made in America, the Body Cleansing Sprays are rinse-free to cleanse your body when a shower is not possible or convenient, like after the gym, after work, traveling, hiking or camping. The toilet paper spray is an easy to use alternative to wet wipes: just spray dry toilet paper to create an instant wet wipe that is actually flushable, and safe for sewer and septic systems.
Real Food Bar: Plant Based Protein Bars (12-Pack)
GMA Deal: $30
•
16% Savings
Original: $36 Valid: 02/20/2023 to 03/05/2023
Experience great taste without the guilt. Made with real, high protein foods, Real Food Bars are clean protein bars, made to bring lasting energy from quality, plant-based ingredients that help deliver balanced, whole-food nutrition. Fifteen grams of protein and 11 grams of fiber are packed into each low-glycemic Real Food Bar. Twelve-packs offered in delicious flavors are also available.
My Fabulous Food: Spice Bundles
GMA Deal: $46.80 + Free shipping
•
40% Savings
Original: $78 + Free shipping Valid: 02/20/2023 to 03/05/2023
Take your taste buds on a delicious journey with beautifully-designed high-end spices and sea salts. My Fabulous Foods is dedicated to elevating at home cooking and baking. The savory seasoning bundle is made to enhance the flavors in everything from pasta and salads to whipped butter and roasted vegetables and more. The sweet seasoning bundle takes baking, sweet drinks and even cocktails from ordinary to extraordinary. Free shipping!
Simple Times Mixers: Cocktail Mixers & Garnish Kit
GMA Deal: $29.99
•
24% Savings
Original: $39.98 Valid: 02/20/2023 to 03/05/2023
Bring the craft cocktail experience home with Simple Times Mixers. It's simple — three parts mixer, one part alcohol or soda water for the mocktail lover. That's it! These handcrafted cocktails are made with only real ingredients and perfectly balanced for delicious drinks every time. Each mixer is made from fresh-squeezed, whole fruit in Simple Times' kitchen, based in Columbus, Ohio. Each variety appeals to the senses: strawberry lemonade, pineapple mule, blood orange margarita and more. The garnish kit adds a special touch to each of your cocktails.