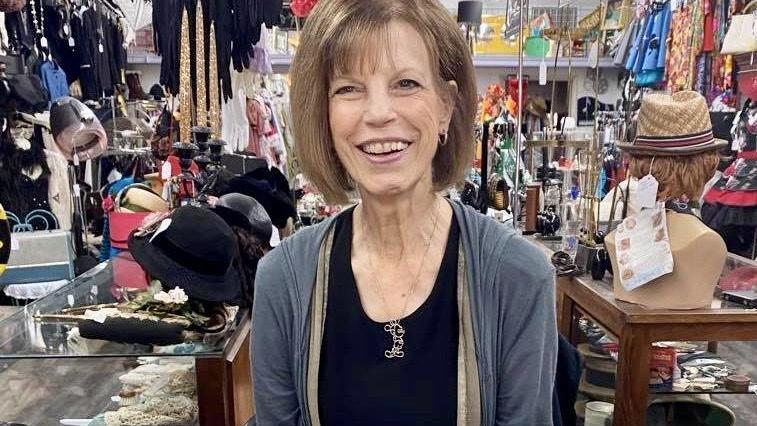 The Olde Towne Emporium: Shopping is cheaper than therapy | Rogersville
Suppose you want to do something different like show up at the 'Cruz-in' Rockabilly style. Let me introduce you to the Olde Towne Emporium.
There's a lady by the name of Kathy Petersen who owns this unique shop. It's a blast from the past to a simpler time where the good ole days are still alive and well.
Olde Towne Emporium is located on Main Street in Rogersville across from O'Henry's and The Looking Glass. Kathy is probably sitting in her chair behind the counter just waiting to show you around. Fabulous finds and bargains filling every nook and cranny make it a hidden gem in downtown Rogersville .
She has 40 years of vintage experience at her previous shop in Southern California: Shine! Christian Performing Arts Studio with Vintage Boutique.
She has an artistic background and has studied ballet and percussion. A woman of many talents, Kathy was also Music Director at the First Baptist Church in her previous home town for 23 years, and taught drama and music.
Hawkins County School Superintendent, Matt Hixson is her son in law. While visiting him in Rogersville during Heritage Days Kathy and her husband found and purchased a store. As Kathy put it they "escaped: California and embraced small town life here.
When asked if there were future plans of expansion Kathy said, "The air conditioning works in 10 minutes so I'm staying put".
She loves flitting about and rearranging her shop. "Customers come back and can't find what they had their eye on." she said. "Don't lose hope. I know exactly where I put it."
She's open 11 a.m. till 5 p.m. Wed-Sat or anytime the open sign is out front. You can call the shop at (423) 797-1715. It's home away from home to Kathy who practically lives there.
Personally I am besotted by the 50's Rockabilly dresses and had so much fun picking one out with Kathy's help. After I put it on, I had to wear it out of the shop and show it off. It's now my favorite dress and I want more.
Kathy gets many one of a kind items so you will stand out in a crowd. To be perfectly honest I could just move into the shop and live there much like Kathy herself who's made it into a fantastic fairyland that Alice herself could get lost in.
Not too long ago I posted pictures on FACEBOOK of my visit to the Olde Towne Emporium. It got lots of comments and compliments.
People were asking if they could order online but Kathy prefers the personal touch. She doesn't ship merchandise. Most expressed admiration of a polka dot dress with big red roses.
I agree it's fabulous. The shop received much love and admiration from my friends around the globe with Suzy Hobson saying, "Beautiful and it looks like an Aladdin's Cave of delights there." A cornucopia of treasures await such as antiques, toys, housewares and more.
Going on a road trip or just want some memorabilia? She's always on the lookout for Harley Davison accoutrements for the biker enthusiast.
You never know what you might find. Come and visit her shop where rock and roll fantasies can become your reality, Or maybe you want a costume or dress up for a special event. It's fun, and not expensive. You can even dress up an old room at home with furniture and accessories.
If shopping is cheaper than therapy, then Kathy's got the right prescription. Don't forget shopping counts as cardio too.
https://www.therogersvillereview.com/rogersville/article_a770d9ca-fc6f-59fd-8d00-6c1a17a74672.html