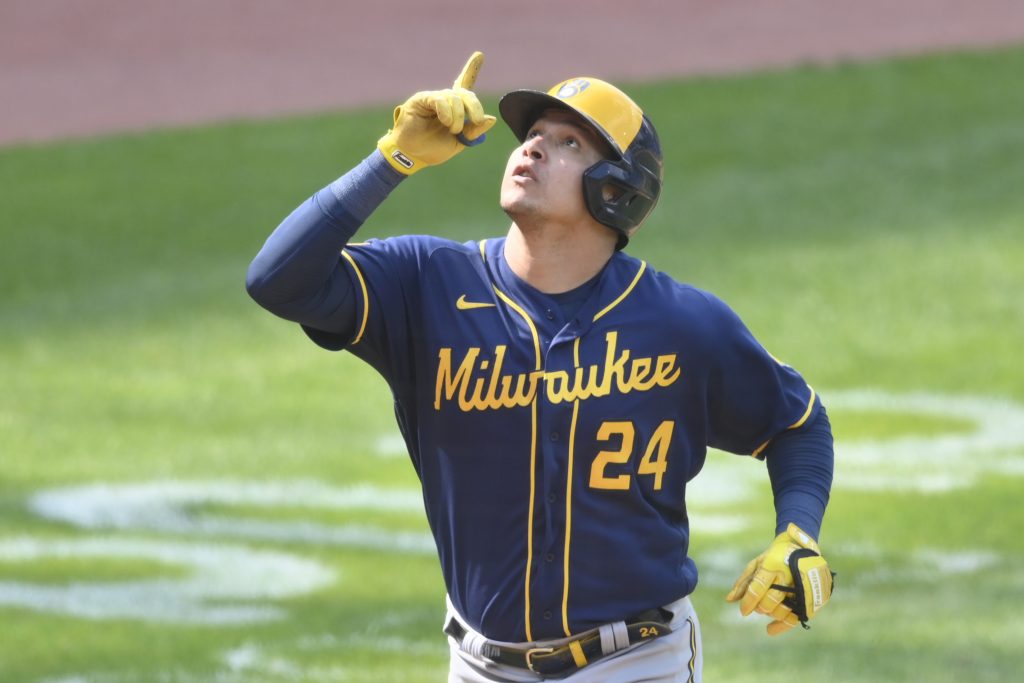 The Marlins' Post-Lockout Shopping List
The Marlins sprinted through much of their offseason dealings in the week prior to the MLB lockout, making their biggest free-agent signing under the Bruce Sherman/Derek Jeter ownership group, swinging a pair of trades and extending their top arm. What's left when the transaction freeze lifts?
Guaranteed Contracts
Sandy Alcantara, RHP: $56MM through 2026 (including $2MM buyout of $21MM club option in 2027)
Avisail Garcia, OF: $53MM through 2025 (including $5MM buyout of $12MM club option for 2026)
Miguel Rojas, SS: $10MM through 2023
Anthony Bass, RHP: $4MM through 2022 (including $1MM buyout of $3MM club option for 2023)
$3MM owed annually to Yankees, through 2027, as part of Giancarlo Stanton trade
Total 2022 salary commitments: $26.5MM
Total long-term commitments: $142MM
Arbitration-Eligible Players (projected salaries via MLBTR contributor Matt Swartz)
Miami's four-year, $53MM contract with Avisail Garcia crossed one of the team's top items off the wishlist, adding a power-hitting corner outfielder to a lineup that ranked 28th in the Majors in home runs this past season. The four-year term was a surprisingly big bet on a player who does most of his damage against left-handed pitching and has, in two of the past seasons, seen his end-of-year results at the plate clock in well below average. Garcia has hit well in the other three of those five campaigns, and the cumulative result is a solid .278/.335/.464 slash (113 wRC+).
Joining him as newcomers in the lineup will be former Rays infielder Joey Wendle and former Pirates catcher Jacob Stallings. Neither will add much in the way of pop, but Wendle gives the Fish a true super utility option who's posted a .271/.326/.425 slash over his past 685 plate appearances. Wendle can handle any of second base, shortstop or third base quite well, and the Marlins could give him some outfield reps as well. He'll be in the lineup more often than not, even if he won't have a set everyday position.
Stallings, meanwhile, gives the Marlins one of the best defensive backstops in the game and a high-end framer to work with their young pitching staff. He's hit .246/.333/.371 across the past two seasons and will serve as a major upgrade, on both sides of the ball, over the since-traded Jorge Alfaro (dealt to the Padres on Dec. 1).
Acquiring three new bats obviously represents a pretty sizable chunk of the Marlins' offseason lifting, but they're not done shopping just yet. General manager Kim Ng has already made clear that she hopes to add another outfielder to the bunch. Center field is still somewhat up in the air, though Ng said after signing Garcia that the Marlins believe he can play center if needed. If Miami is truly comfortable with Garcia in center, that'd open the possibility of the Marlins pursuing another corner-outfield option, although playing Garcia in center seems suboptimal from a defensive standpoint. Miami has been tied to Nick Castellanos, Kyle Schwarber and Eddie Rosario, but Castellanos and Schwarber are likely beyond their price range.
Adding another corner option and playing Garcia in center would be something of a surprise, but the free-agent market lacks a true, everyday option in center at this point. There are some center fielders available (e.g. Kevin Pillar, Jake Marisnick, Albert Almora Jr.), but none who profile as everyday options offensively. Meanwhile, there are plenty of corner bats who have some experience in center (e.g. Rosario, Joc Pederson), but none who'd profile as a regular in center from a defensive perspective.
If there's one corner outfielder in particular who makes sense in Miami, it's perhaps NPB star Seiya Suzuki, whose posting window will resume once the transaction freeze lifts. A star with Japan's Hiroshima Carp, Suzuki will sign with a big league team in advance of his age-27 season. For a team that's looking to continue improving but won't be a division favorite in 2022, Suzuki is an ideal add. He'll still be in his prime several years down the road, perhaps when Miami's prospect core has further bolstered the MLB roster. There's risk in signing a star player who is yet untested against MLB pitching, but that uncertainty also helps to tamp down the price point. Since 2018, Suzuki has batted .319/.435/.592 slash line with 121 home runs, 115 doubles and four triples in 2179 plate appearances. He just won his fifth NPB Gold Glove in right field this past season. If Miami is truly comfortable with Garcia in center, Suzuki becomes a much more interesting name to ponder.
However, the most straightforward path for the Marlins finish off their outfield would be to add a center fielder via the trade market, though the few available options would be tough to pry from their current teams. The Orioles and Pirates will at least listen to offers for Cedric Mullins and Bryan Reynolds, for instance, but both players are controlled four more years and would come with through-the-roof asking prices. It's a similar story with Arizona's Ketel Marte, who's guaranteed $8MM in 2022 before the team has a $10MM club option for 2023 and a $12MM club option for 2024. He's a bit more expensive and has one fewer year of control, but Marte is the most established player of that trio.
The Marlins do have a wealth of young pitching and managed to acquire Wendle and Stallings without dealing from their very best young arms, but any of Mullins, Marte or Reynolds would require parting with several young talents, likely headlined by a pair of legitimate top prospects.
There could be other, less-talked-about options to pursue. Oakland's Ramon Laureano will miss the first month-plus of the season while finishing out an 80-game PED ban, but that could perhaps drop the price on him a bit. He's controlled another three seasons. Kevin Kiermaier will surely be available once again, and while he wouldn't provide the offense the Fish are hoping to add, he'd follow the Stallings mold in providing one of the most notable defensive upgrades possible.
Speculating further, Miami could try to effectively purchase a prospect or two by bailing the Yankees out of the remainder of their Aaron Hicks deal — they've certainly acquired plenty of other former Yankees. Or, perhaps they could go in the other direction and buy low on a former top prospect like Seattle's Taylor Trammell, who has yet to establish himself and may already be squeezed out of the long-term outlook with the Mariners. There's a match to be made between the pitching-rich Marlins and the Twins, too, if Miami is comfortable playing Max Kepler in center field regularly.
Whatever route the Marlins go in the outfield, they'll surely want to keep some playing time free for 24-year-old Jesus Sanchez, who hit 14 home runs in just 251 plate appearances as a rookie this past season. Sanchez's 31.1% strikeout rate will need to come down, but he slashed .251/.319/.489 (116 wRC+), securing himself a lengthier look moving forward. Also in line for a larger look is 25-year-old Bryan De La Cruz, who hit .296/.356/.427 (albeit with a rather fortunate .380 average on balls in play) after coming over from the Astros in the Yimi Garcia trade. Former top prospect Monte Harrison is out of minor league options and could soon be out of opportunities if and when Miami adds another outfielder, given the options in line ahead of him.
That's a lot of focus on one outfield spot for Miami, but that's due largely to the fact that the lineup is otherwise mostly set. Stallings is locked in at catcher, and the Marlins have Jesus Aguilar (first base), Jazz Chisholm (second base), Miguel Rojas (shortstop) and Brian Anderson (third base) rounding out the infield. The aforementioned Wendle and fellow infielder/outfielder Jon Berti provide backup all around the field, while underrated slugger Garrett Cooper and prospect Lewin Diaz provide backups at first base.
In the event the DH is added to the National League, Aguilar could spend more time there in deference to the defensively superior Diaz. If Diaz needs more time in Triple-A, the Marlins could simply let Aguilar and Cooper share first base/DH duties. There's perhaps room for another addition here to deepen the lineup, but don't expect the Marlins to break the bank and sign Castellanos, Schwarber or another bat of that magnitude.
In the rotation, the Marlins are largely set, unless they want to bring in a veteran on a minor league deal just for additional depth purposes. Sandy Alcantara, who signed a five-year, $56MM extension that set a record for pitchers with between three and four years of MLB service time, will anchor the staff after ranking fourth in the Majors with 205 2/3 innings pitched this past season. He'll be followed by breakout lefty Trevor Rogers, who notched a 2.64 ERA through 25 starts as a rookie in 2021. Righties Pablo Lopez and Elieser Hernandez have spots largely assured, health permitting. Lefty Jesus Luzardo may have the inside edge on the fifth spot, but flamethrowing top prospects Sixto Sanchez and Edward Cabrera will get their opportunities in 2022 as well.
Even beyond that top seven, the Marlins have enviable depth. Nick Neidert, Braxton Garrett, Cody Poteet, Paul Campbell and Daniel Castano are all on the 40-man roster and all have some big league time under their belts already. The Fish also still have 2020 No. 3 overall pick Max Meyer rising through the ranks. Fellow top prospect Jake Eder will miss 2022 due to Tommy John surgery but is highly touted in his own regard. Right-hander Eury Perez elevated his profile with a huge 2021 season in A-ball, and lefty Dax Fulton is also well-regarded.
Some of those arms — particularly those already on the 40-man — could end up in the bullpen, which is the other area the Marlins could look to upgrade. Dylan Floro, Anthony Bender, Anthony Bass and Richard Bleier are all locks for the 'pen. Lefty Steven Okert may have earned a 2022 spot as well. Still, there's no shortage of relief arms available on the market — and the Marlins have spent on some veteran arms at the back of the relief corps in recent offseasons. Sergio Romo, Brandon Kintzler and Bass were all signed as free agents. It's doubtful Miami would spend at the top of the remaining market (i.e. Kenley Jansen), but another modest one- or two-year deal for an underappreciated veteran seems plenty possible.
Whenever offseason activity finally resumes, the Marlins will still have some work to do — even if they're not as active as they were in the days leading up to the shutdown. Look for Miami to cast a wide net as they seek one final outfield piece, and don't be surprised if teams come calling on some of their starting pitchers, given that arguably unrivaled level of depth.
The NL East features the reigning World Series champs, the reigning NL MVP (Bryce Harper) and perhaps the most aggressive owner in the sport right now (the Mets' Steve Cohen), making it a tough time for the Marlins to be looking to turn the corner. They'll face a tough road, but with another savvy addition or two and some strides from the young arms on the roster, a playoff push in 2022 isn't completely out of the question.