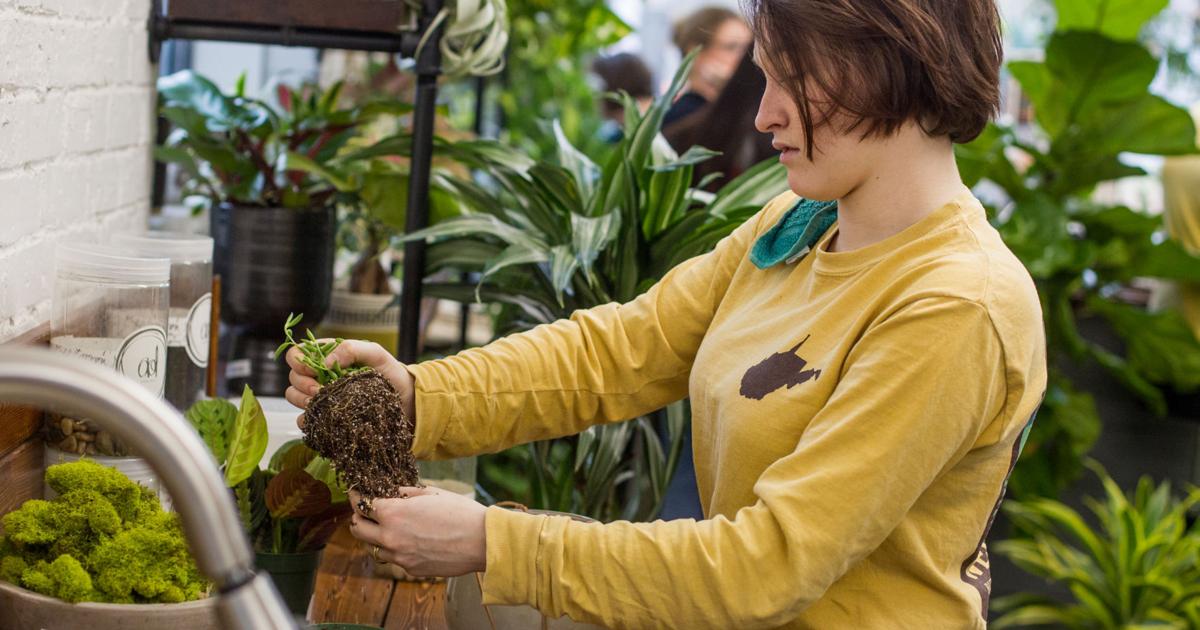 Shopping | Visitors Guide | herald-dispatch.com
HUNTINGTON PULLMAN SQUARE: 3rd Avenue, www.pullman-square.com: This entertainment complex features the bookstore The Inner Geek. Video games are available at the complex's Game Stop. Upscale ladies' boutique Chico's offer the latest fashions. You'll also find the Old North Arcade, GNC, M&M Nails and Spa, T.K. Dodrill Jewelers and paint-your-own ceramics studio, The Pottery Place. The center also has a 16-screen, stadium-style movie theater and a Starbucks.
DOWNTOWN HUNTINGTON: Around Marshall University's campus in the heart of Huntington, many stores offer a wide variety of wares. Downtown provides men's clothing stores like Wright's at 943 3rd Ave. and a variety of women's clothing boutiques such as The Village Collection, 900 4th Ave., 304-525-2204, which boasts more than three decades in business. Glenn's Sporting Goods is located at 1010 3rd Ave. C.F. Reuschlein Jewelers, at 947 3rd Ave., has been offering fine jewelry and gifts for more than 120 years. Call 304-697-7710 or visit http://www.cfrjewelers.com/. Pet Palace, 831 4th Ave, Suite 101, offers pet supplies, clothing, fresh-baked treats and some small pets. Dan's Sport Shop on 4th Avenue offers all the Marshall University licensed wear you can carry, plus a ton of sports gear. Old Main Emporium at 842 4th Ave. offers tons of unique Marshall items, plus upscale gifts. Call 304-522-MAIN. The Market at 809 3rd Ave. is an open-concept building that houses several specialty cafes along with shops like Wildflower Gift Gallery, women's clothing boutique The Hip Eagle, and Tulsi, a health and wellness grocery store. The newest downtown small business hub is the Progress Building, in the 400 block of 8th Street. Current businesses include Lyn-Zen Microblading and Tiny Tattoos, The Potted Edge, The Little Eagle and Harbour House boutique.
HERITAGE STATION: Home to the Cabell-Huntington Convention and Visitors Bureau, Heritage Station, located at Veterans Memorial Boulevard and 11th St. (across from the entrance to Harris Riverfront Park), is growing with unique retailers, restaurants and local artisans. Current tenants include: Birds of a Feather Boutique, Full-Circle Ceramic, Gumbo Stop Cafe, Nomada Bakery, The Historic Hippie record shop, Brown Dog Yoga, Taps at Heritage, The Chessie Room B&B, All About You Hair Studio, The Hautewick Social, the Red Caboose and the Administrative offices oaf the Greater Huntington Park & Recreation District, in Shop #1.
OLD CENTRAL CITY ANTIQUE DISTRICT: 14th St. W., Huntington, www.oldcentralcity.org. This street in Huntington is home to many antiques stores. These include AAA Antiques, Adell's Antiques, Adkins Auctions, Mark's Antiques, MFE Video and Collectibles, Pam's Marketplace, Sloane Square Gallery, Thistle Patch Vintage Garden & Antiques, Village Antique Mall, Hattie and Nan's Antiques. Grab some hot or cold brew at Cicada Books and Coffee. Enjoy lunch at Central City Café, 529 West 14th Street, which has been featured on the Food Network's "Diners, Drive-Ins & Dives." The Wild Ramp, which is Huntington's year-round farmer's market with locally sourced produce, meats and dairy, artisanal foods and handmade items, is located at 555 14th St. West, in the heart of Old Central City. Visit wildramp.org.
DOWNTOWN: Barboursville's charming downtown has had a recent burst of business activity, with new additions including the 1861 Public House and Orbit's Record Shop. The Mixing Bowl, a bakery, recently had its official ribbon cutting. They join longtime businesses WV Quilt and David Hill Limited Stamps and Coins, along with the recently renovated upscale restaurant, Main Street on Central. Coming soon is Booktenders, a book store with a coffee shop.
MERRITT CREEK FARM PLAZA: in Barboursville (located off of exit 18 on Interstate 64, also accessible off U.S. 60 in Barboursville): This shopping mall contains more than 20 stores. Department stores Marshalls and Target anchor the site, which also features Starbucks, Office Depot and Home Depot. There are also some boutique and specialty stores, including health food market Wholi Moli and Sally Beauty.
RIVER PLACE: 6007 U.S. 60, Barboursville: This shopping center features more than 30 businesses, including several restaurants, a Goodwill store and other retail.
HUNTINGTON MALL: Mall Road, Barboursville, 304-733-0492, www.huntington-mall.com: The largest shopping center in West Virginia has more than 150 stores and restaurants. The mall features many department stores including JCPenney and Macy's. The mall also has specialty stores like Talbot's and Bath and Body Works. The mall provides electronics and entertainment stores like Best Buy, and the large book store Books-a-Million (BAM! for short) and cosmetics and skincare megastore, Ulta Beauty. Call 304-733-0007.
BLENKO GLASS CO.: Fairgrounds road, 304-743-9081, www.blenkoglass.com. The 110-year-old hand-blown glass company offers tours and a gift shop at its factory.
KNIGHT TIME MUSIC: 109 Main St., 304-743-5100. This music shop offers sound systems, karaoke machines and records for businesses, DJs and private homes.
MILTON FLEA MARKET: 1215 U.S. 60, 304-743-1123. Offers a variety of goods from glass and leather to music and clothing and much more. It's adjoined to the Halfway Amish Market, which offers a variety of produce, plants and Amish foods.
East of Huntington and sandwiched between Huntington and Charleston, Putnam County has smaller shops and plazas spread throughout the county. Shopping plazas include Putnam Village in Hurricane, Eleanor Shopping Center in Eleanor, Mid Valley Plaza and Scott Junction.
DOWNTOWN HURRICANE: Downtown Hurricane shopping options include Hurricane Floral and Gift Shop, 2757 Main St., offering flowers for all occasions and dried arrangements, 304-562-6481; Main Street Studio, 2801 Main St., original arts and crafts for view and purchase, 304-562-5445; Paws to Shop Thrift Store, 2759 Main St., proceeds from sales benefit New Hope Animal Rescue; Quilts by Phyllis, 2943 Putnam Ave., 304-562-7404; Oodles Gift Shop, 2825 Main St., 304-397-6172; Main Street Music, 2729 Main St., 304-208-7508; Blind Wizard window coverings, 2813 Main St., 304-397-6733.
Other Hurricane shops: Dale Morton Studio Mascot Costumes, 2477 Main St., offers costumes for many occasions, 304-562-7503, www.dalemortonstudio.com.
LIBERTY SQUARE SHOPPING CENTER: Located at 1 Liberty Square, Hurricane, this center offers grocery store Aldi, along with Home Depot, Advance Auto Parts, GNC, Cato Fashions, Hallmark, W.V. Department of Motor Vehicles. Call 304-345-8700.
BRIDGE ROAD SHOPS: The charming boutiques at Bridge Road Shops in Charleston have a little something for every need. Eggplant sells gifts, decorative accessories and stationery. Yarid's Shoes sells women's and men's shoes, accessories and more. Geraniums sells fine ladies clothing, jewelry and accessories, and Eclectics sells unique gifts you can't find anywhere else. After all that shopping, treat yourself to delicious specialty pizzas and sangria at Lola's Pizza, a cozy restaurant located near the shops. From I-64/77 Exit No. 100 — Leon Sullivan Way. Right at Washington Street (first stop light). Travel 1 block, turn left onto Dickinson St. Continue 3 blocks, then cross the South Side Bridge (stay in the middle lane while crossing the bridge) Go through the light, turn right uphill onto Bridge Rd. Travel .4 miles up Bridge Road until you reach the Bridge Road Shops. Learn more at bridgeroad.org.
CAPITOL MARKET: Located in a charming, restored turn-of-the-century freight station from the 1800's, this all-seasons market offers a premium selection of goods and services for the shopper, traveler and Greater Charleston community. Local farmers bring fresh produce daily. Inside the market, you'll find specialty shops, lunch options, tasty treats and indulgences, West Virginia specialties and even a fine Italian restaurant. Parking is free at the market, located minutes from the Capitol complex at 800 Smith Street. Call 304-344-1905.
CHARLESTON TOWN CENTER MALL: 3000 Charleston Town Center, 304-345-9525, www.charlestontowncenter.com: Is located in the heart of the state's capital. The mall has a JCPenney in addition to a wide array of specialty stores like Bath and Body Works, bookstores and more.
SOUTHRIDGE CENTER: Southridge Center is located along the well-traveled Corridor G (U.S. Route 119) and is easily accessible from Interstates 64, 77, and 79. The Southridge Area includes approximately 2,000,000 square feet of retail space featuring leading national retailers such as Walmart, Sam's Club, Home Depot and outdoors superstore Cabela's.
ASHLAND TOWN CENTER: 500 Winchester Ave., 606-324-1100, www.ashlandtowncenter.com: The mall houses more than 70 stores. Department stores include Belk and JCPenney. A variety of specialty stores inhabit the mall and sell products from all over the world.
DOWNTOWN ASHLAND: Shopping in Ashland doesn't stop in the mall. Ashland houses boutiques and specialty shops.
JESSE STUART FOUNDATION: 4440 13th St., Ashland, 606-326-1667, www.jessestuartfoundation.org: Provides a sample of the area's literary culture. Books from Jesse Stuart, a noted author in the area, as well as other Appalachian authors are available. The store also has a general used book section with authors from all over the world.
FRAME UP GALLERY: 1436 Winchester Ave., 606-324-8565, this frame shop also doubles as a coffee shop.
CAMP LANDING: Camp Landing is anchored by Rural King on the retail side, and boasts Malibu Jack's, an indoor family fun center that includes a bowling alley, interactive go-cart track, mini golf course, carnival style rides, arcade games, laser tag, cabaña spaces for parties and more. There is also a 2,000-seat movie theater.
Some department stores have set up shop along U.S. 52 in Lawrence County, Ohio, including Walmart. There also are many locally owned stores.
UNGER'S SHOES: 304 S. 3rd St., Ironton, 740-532-5954, the shoe store stocks many brands of regular shoes and specialty shoes for different orthopedic needs.
TACKLE BOX: 411 Solida Road, South Point, is one of the largest bait and fishing stores in the region.
IRON CITY HARDWARE: 116 S. 3rd St., Ironton, 740-532-8414, a family-owned hardware store.