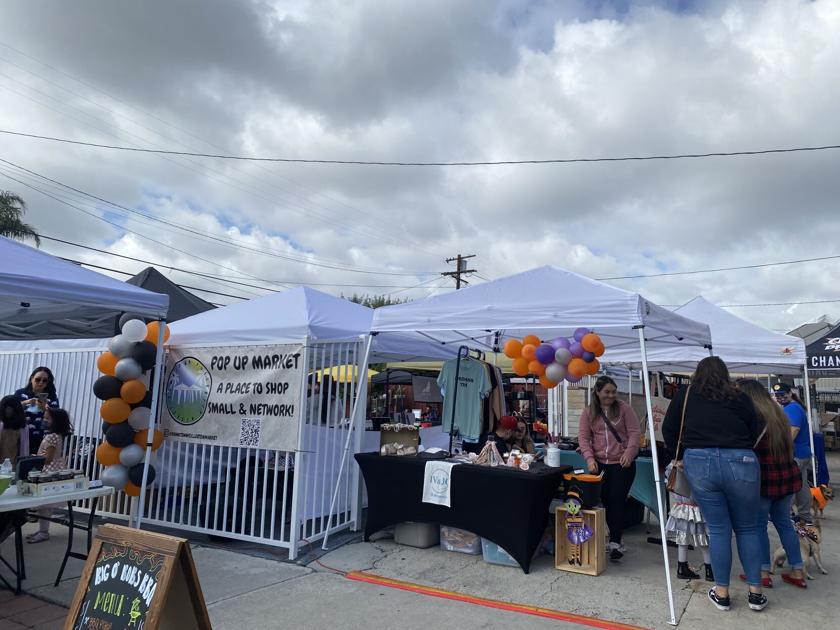 Local pop-up market brings shopping and Halloween fun | Lifestyle
Casa 723, located at 723 S. Harbor Blvd. in downtown Fullerton, hosted a Halloween pop-up market on Saturday, Oct. 23. The event featured local vendors, live music, food and drinks, raffle prizes and a costume contest for kids and their furry friends.
The event consisted of 23 different vendors and ran for five hours with free admission.
Brandon Le, the event coordinator for the downtown Fullerton Market, said that he plans these events every month. 
"The reason why I created downtown Fullerton Market is it's a small place to shop small and network. So like you can showcase your products, get your name out there and network while you're having fun too," Le said.
Le said he plans the events with different kinds of vendors, so there is not a repetition of the same item. Some of the vendors supplied dog treats, dog bandanas, plants and potting, candles, cookies and snacks. 
The event included candy bowls at each table and candy bags were handed out to attendees. Raffle tickets were also given to customers who purchased items and random tickets were drawn every hour to win goodie bags.
The event featured a dog costume contest and kids costume contest. The winners for each contest were awarded goodie bags and a picture at the photo opportunity from the coordinator. All contestants were awarded candy and treats for the dogs. 
Khristynne Oradan, the owner of Bully & Co., a dog-walking accessory company that makes dog harnesses, collars, leashes and waste bag holders, was one of the vendors at the event. She said that the reason she started this business was because of her personal search for boy-friendly dog apparel for her French Bulldog.
"So I decided to start something, just as a small business, I think it was important to try something like that in my life. So I decided to launch it and so far it is so good. We're a little less than a year old," Oradan said.
Oradan said she has been to about five pop-up events; three of them have been with downtown Fullerton Market. 
"My favorite part is the community. Just a lot of our friends that have Frenchies as well come, just to visit, to say hi, supporting the other small businesses, I think is very important, especially during these times," Oradan said. 
She said she encourages people to come out to these events.
 "Come out to this Fullerton pop up. They're held monthly. It's a lot of fun, great food, you know, other small businesses too. So just support, support small," Oradan said
Charlene Pedroza, the owner of Lovely Macrame, was another vendor at the market. The business sells handmade macrames for all types of plants as well as macrame dividers. Pedroza started her business during the COVID-19 pandemic and it has been working well. 
Based in Paramount, Pedroza said she attends pop-up events every weekend. She said she likes coming out to them because of the welcoming environment and meeting new people.
Le offered advice to any new vendors interested in getting involved with the market. 
"I do recommend, highly recommend, if you guys do have a seller's permit to hop on that. And If you guys do want to start somewhere, message me, DM me through social media, email and then I can point you in the right direction," Le said.
Updates on upcoming events can be found on the Downtown Fullerton Market's Instagram page, at the handle @downtownfullertonmarket. The next event will be a fall-themed pop-up market hosted Nov. 13 from noon to 5 p.m. at the same location.

https://dailytitan.com/lifestyle/local-pop-up-market-brings-shopping-and-halloween-fun/article_67cdf6c6-351c-11ec-a9bd-5bd895319247.html