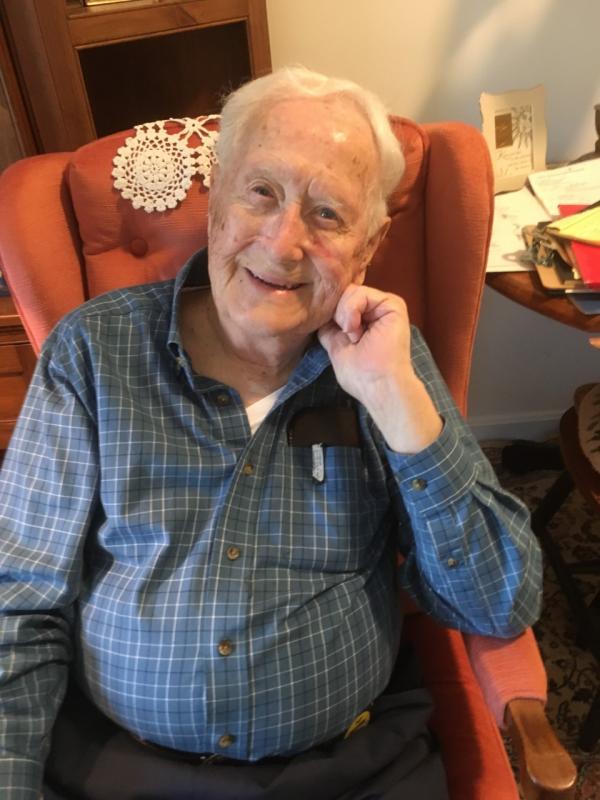 Glenn Gooding Bellinger, jewelry store owner
Glenn Gooding Bellinger, 99, died Saturday, Sept. 25, 2021, in Hampstead, Md. He was born March 2, 1922, in Mendon, N.Y., to Christopher Gooding and Nettie Fisk Bellinger.
Glenn graduated from McKinley Technology High School in Washington, D.C. He worked for the former Coast and Geodetic Survey and served in the U.S. Navy, Pacific theatre, during World War II. Later, he owned G.G. Bellinger Mfg. Jeweler in Washington, D.C., for over 25 years and Ye Ole Jewel Shoppe in Rehoboth Beach for nearly 30 years. Glenn and wife Bernice lived in Hyattsville, Md., for over 25 years before moving to Lewes. He was a past member of Riverdale Presbyterian Church, Riverdale, Md., Westminster Presbyterian Church, Rehoboth Beach, and First Presbyterian Church, Westminster, Md.
Glenn played trumpet in the McKinley Tech School band, was a duckpin bowler, an Optimist Club softball coach, a Scoutmaster and a church deacon. Glenn brought his artistic talents to jewelry design, garden scaping, drawing with inks and colored pencil, painting with oils, acrylics and watercolors, and stained-glass creations, and he was a master repurposer long before it was done for the environment. When his family was young, he enjoyed camping at the beach, and in national and state parks. In retirement, Glenn and Bernie travelled around the U.S. in their RV visiting relatives and friends, especially in California, Florida and New Jersey. They travelled to Hawaii, and cruised to Bermuda, the Caribbean, Central America, and Alaska. Glenn played golf until his early 90s. Throughout his life he never lost focus on what was important, and to him, his wife and family were at the top of his list.
Glenn is survived by his wife of 75 years, Bernice (Yanhko) Bellinger. He is survived by children Bob (Pat Zungoli), Pendleton, S.C., Glenna Kinney (Chuck), Westminster, Md., and Dale (Nancy) Bellinger, Rehoboth Beach; grandchildren Christopher (Annie) and Caitlin Bellinger, Gina (Bill) Barkley, Chuck and Chad (Alyssa) Kinney, and Logan and Reed Bellinger; and great-grandchildren Olivia, Beatrice and Cleopatra Bellinger, Husam AlZubaidy and Brigid Barkley, Annabelle, Caroline and Brooks Kinney, and numerous nieces and nephews.
He was predeceased by brother Dean Bellinger, sister Alice Pearson and grandson Nicholas Zungoli Bellinger.
Memorial service will be at 1 p.m., Thursday, Sept. 30, at First Presbyterian Church, 65 Washington Road, Westminster, Md. Masks will be required. A livestream of the service will be available on the church website at www.fpcwest.org.
In lieu of flowers, donations may be made to Autism Delaware, 928 Old Harmony Road, Newark, DE 19713 or a charity of your choice.
Arrangements provided by Pritts Funeral Home & Chapel.
https://www.capegazette.com/article/glenn-gooding-bellinger-jewelry-store-owner/227488