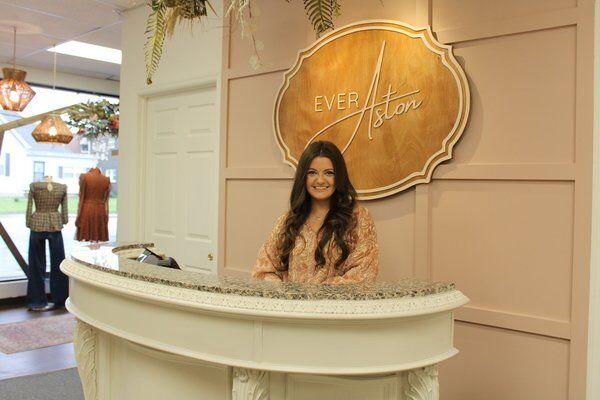 GETTING TO KNOW… New women's boutique Ever Aston opens in downtown Corbin | Local News
CORBIN — London native and Corbin High School graduate Malari Hoskins never dreamed she would be opening her own boutique at just 23 years old.
"It's been a whirlwind," she said. "It makes me happy that every day I get to come here and come to work—something that's mine and something I created."
Hoskins, who graduated from the University of the Cumberlands in May of this year, first became interested in opening her own boutique after working for the Bibbidi Bobbidi Boutique in Florida during her time in the Disney College Program, which was cut short due to the pandemic.
Upon returning from her short-lived time in the Disney College Program, Hoskins' roommate from the program offered her an exciting job opportunity working with the Atlanta Apparel Market.
"I would travel and work with different designers at the Atlanta Apparel, Dallas, Vegas and New York Apparel Markets," Hoskins said. "The designer I worked for in particular kind of pushed me, she was like, 'you should open your own boutique.'"
In February of this year, Hoskins opened her own online clothing boutique, "Ever Aston." Hoskins said the name for her boutique was inspired by her experience in the Disney College Program and her own middle name.
After hosting several pop up shops in Corbin and Williamsburg, a storefront in downtown Corbin became available in July that Hoskins just couldn't pass up.
"It was like a God thing, so I just had to do it," she said.
Hoskins worked diligently, with the help of her family, for two and a half months before Ever Aston opened on September 11.
Ever Aston offers women's clothing choices for a wide variety of ages and sizes and price points. The boutique offers clothing sizes from XS to 3X, as well as accessories and gift items.
"I definitely try to have a little bit of everything for everybody," Hoskins said. "You can find something to wear to school or work, business casual—always try to think about those girls and then date night or I do have more like event dresses for a wedding or some kind of event."
Ever Aston even offers a "jeans bar," which was inspired by Hoskins' love for jeans, offering a variety of styles and sizes in jeans.
"I also have a lot of gift and accessories," Hoskins said. "Earrings have been a huge thing, everyone has been coming here for earrings, so we're definitely keeping those stocked up. Then, I have candles in wood dough bowls that come out of Nashville and they sold out really quickly, so I just had to place a giant order with them. Everybody loves those candles and nobody around here has them."
Though Hoskins had already built quite a customer base through her online boutique, since opening her storefront, she has already seen several new, repeat customers in the only the week and a half she has been open.
"Everyone comes in and they're so excited because there's really not another boutique like it that you could just go get something to wear for a wedding on Saturday or whatever you needed without going to Lexington," she said.
Hoskins travels to different apparel markets where she is able to touch and see all the clothing items in person before deciding what she thinks her customers in the Tri-County would like to see. To keep her store fresh, Hoskins said she is constantly getting in new shipments of items.
"There's always going to be something new out, whether it be earrings or candles or clothes," she said.
Ever Aston is located at 1005 South Main Street in downtown Corbin and is open Tuesday, Wednesday and Friday 11 a.m. to 5 p.m., Thursday 11 a.m. to 6 p.m., and Saturday 10 a.m. to 2 p.m.

https://www.thetimestribune.com/news/local_news/getting-to-know-new-womens-boutique-ever-aston-opens-in-downtown-corbin/article_16a1cf8f-2f9d-56e0-9c33-f0cb484e1ed7.html