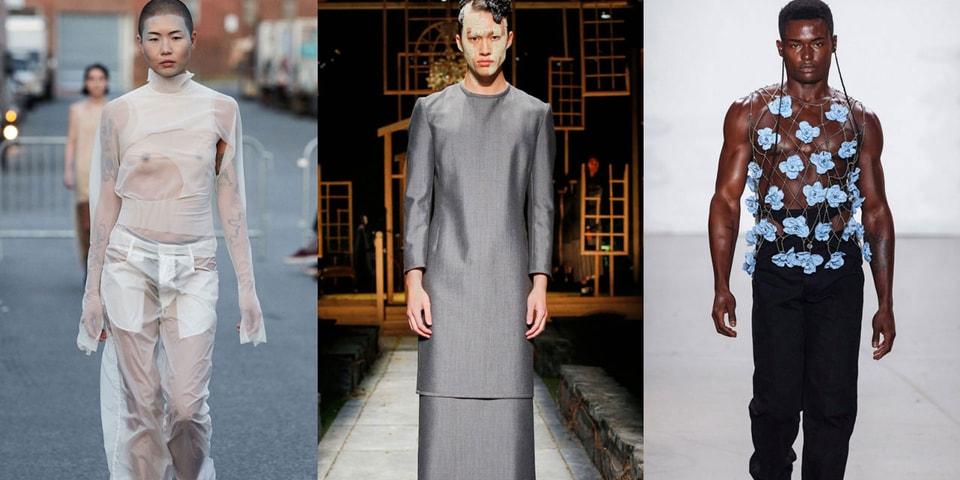 Genderless Design Codes Dominate NYFW's Spring 2022 Runways
This year's New York Fashion Week reflected the continued evolution of clothing design, embracing a future of fashion that appears largely absent of gender constructs.
Fluidity has taken a new form in recent years, as discussions surrounding gender identity have claimed a larger spotlight in the mainstream media. Public figures, like Jaden Smith, Young Thug, Sam Smith and several others, have helped challenge gender norms and bring wider awareness to the evolving LGBTQ+ community. In fashion, that conversation is manifesting on a multitude of leading designers' runways; this season, several have boldly flouted the clothing binary with collections challenging the traditional notions of "menswear" and "womenswear," with some removing those confines altogether.
Private Policy, which has put forth a unisex vision since its conception, showcased a Spring 2022 collection defined by entirely gender-irrelevant design codes. Silhouettes span across a spectrum of traditionally masculine and feminine, though the entire collection is meant to be worn by people of all genders.
Boxy jacket-and-pant sets reside on the traditional menswear side of the range, while pencil skirts and satin tops represent archetypal womenswear cuts; despite recognizing those socially-constructed style ideals, Private Policy's designs exist without labels, inviting people to shop without the confinements of gender norms.
In a similar light, Eckhaus Latta distinguishes itself among fashion's top players as a gender-neutral label, and this season, it proved just how versatile its designs can be.
The brand's creative constructions — long-sleeve tops with punctured holes in their torsos, tank tops with sheer chests and abstract layers, sweaters with asymmetrical cuts down one arm — transcend masculine and feminine design and instead depict how fashion exists as a medium for artistic expression. It's easy to say that a brand's gender non-conforming codes are driven by social trends, but Eckhaus Latta reminds the industry that fashion is simply meant to exist as a vehicle for self-expression.
Unlike Private Policy and Eckhaus Latta, Helmut Lang normally debuts its collections under separate "menswear" and "womenswear" categories; this season, the label opted to present a singular, unisex Spring 2022 range, exploring themes of intimacy and novelty through a curated range of nautical-inspired assemblages.
The collection notes pose a key question: "If I no longer go to an office, why do I need a suit?" The brand believes a suit's sense of timelessness will always represent class; but, in the aftermath of the pandemic-enforced period of solitary self-reflection, Lang's androgynous reinventions of the classic silhouette prove the changed sentiments towards gender-confined fashion.
Thom Browne has never been one to lawfully adhere to traditional gender codes in his design practice, either. The label's approach to genderless fashion, though, is less about removing labels and more about pushing the boundaries within those confines.
Next to classic styles in the men's domain, loose-fitting dresses, slim skirts and kilts claim prominence on the Spring 2022 roster, and on the women's side, boxy suit constructions define a sizable portion of the range. Working from the inside out, Browne challenges the age-old archetypes of gendered fashion by presenting provocative-yet-refined pieces under menswear and womenswear categories.
The industry's continued abandonment of rigid categories represents a larger societal shift to embrace marginalized identities. Where menswear and womenswear once defined the industry, a new generation of fashion design is working to erase the notion of gendered style. Of course, those binaries will continue to inform style staples for years to come, but, if anything, this New York Fashion Week taught us that fashion's fire for inclusivity is very much still ablaze.
Elsewhere, take a look at the best street style looks HYPEBEAST captured during New York Fashion Week.
https://hypebeast.com/2021/9/new-york-fashion-week-spring-summer-2022-trends-gender-unisex