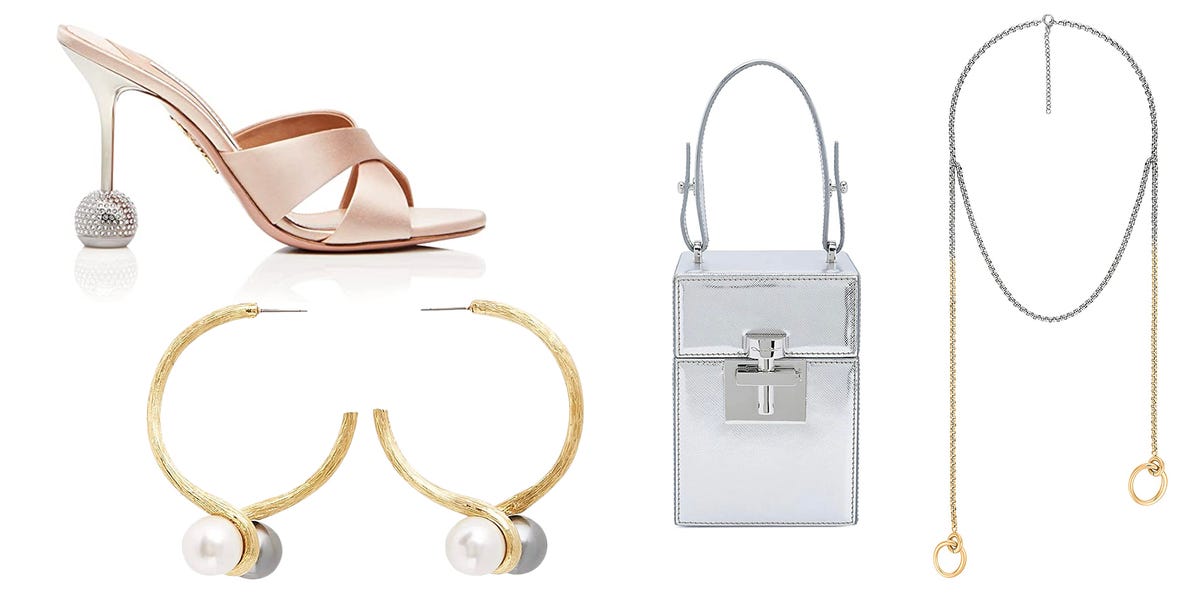 Designer Accessories Amazon Luxury Stores
The end of the year always tends to herald a lot of parties. Whether cocktail, dinner, or dancing, each shares one very important factor: The opportunity to dress up a little (or at least differently than the day-to-day).
You can outfit yourself in head-to-toe newness, but it's definitely not required. Knockout accessories have the ability to freshen up things already in your closet, making them feel new again or creating a different vibe than however you wore it last time. And the very best spot to be shopping for those sort of gems right now? Amazon. From statement jewelry to luxe lipstick, shop our current favorites below.
1
Mini Symi Necklace
Faking the look of chains looped oh-so-casually about your neck, this necklace is artful and against-the-grain. Wear it with a plunging neckline for the midnight hour, then keep it on with your favorite tee the next day.
2
Yes Darling Mule 95
A sparkle-heeled mule is like jewelry for your feet. They're versatile, too, able to be worn with beat-up denim or high-wattage black-tie.
3
Maison Face Covering
Masks are still part of our accessory retinue, so splurging on a designer option is safe. Update your collection with a beyond-luxurious version that won't detract from your outfit.
4
Double Pearl Earrings
Upgrade your hoops for evening with this pearl-accented pair. The battered gold finish has a rich edge to it, while the interplay of white-on-gray pearl nixes any stuffy traditionalism.
5
Luminizing Face Enhancer
When it comes to your party face, it all really starts and ends with luminous skin, right? This limited-edition compact basically will read like stardust for your face (while looking good in your bag should you choose to take it out).
6
Papillon 105 Sandal
A flock of butterflies brings color and playful energy to a sexy wrap sandal. As a true flight of fancy, they look good with all-black or a whole lotta color.
7
Crystal Cupchain Pearl Earrings
If a little sparkle is a surefire way to reenergize last year's party look, then a lot of sparkle is guaranteed to hit. This pair dusts the shoulder and then some. 
8
Maison Contouring Bralette
There's something undeniably sexy about a little bit of lingerie peeking out. Whispery lace is the standard choice, but a stretch of see-through mesh has a cool sporty feel.
9
Naturally Enhancing Eyeshadow Palette
Get artful with your look or go down the no-makeup-makeup route. This shimmery range is perfect for achieving either.
10
Radiant Liquid Rouge Matte
Sometimes the boldest accessory is one you can't physically carry in your hand. A standout lip packs a big punch, and a cherry-red matte color is timeless.
11
Monogram Platform Pump
If platforms are your thing, go sky-high this party season. This classic ankle-strap style doesn't skimp on height, and hardware adds a glint of something special. 
12
Round Frame Sunglasses
Headed to a party before the sun has set (or actually getting your festive on while the rays are still strong?). Include a pair of designer shades in your accessory arsenal for an added oomph that's also sun-smart.
13
Silver Alibi Bag
Almost by definition, evening bags don't need to be anything but artful. They're designed to accessorize and carry the most basic of essentials, so practicality (and size) can be tossed out the window. This beautiful box shape is just perfect.
14
Turquoise Beaded Necklace
Jewelry can make a party-appropriate impression even without being big or super shiny. A string of classic turquoise beads adds a unique jolt of color that is different than your standard cocktail baubles.
15
Vulcanello Ring
For statement jewelry that has a more natural vibe, you can't do better than this handmade, one-of-a-kind find. With a diamond mounted on a wave-smoothed pebble, it's earthily elegant.
This content is created and maintained by a third party, and imported onto this page to help users provide their email addresses. You may be able to find more information about this and similar content at piano.io