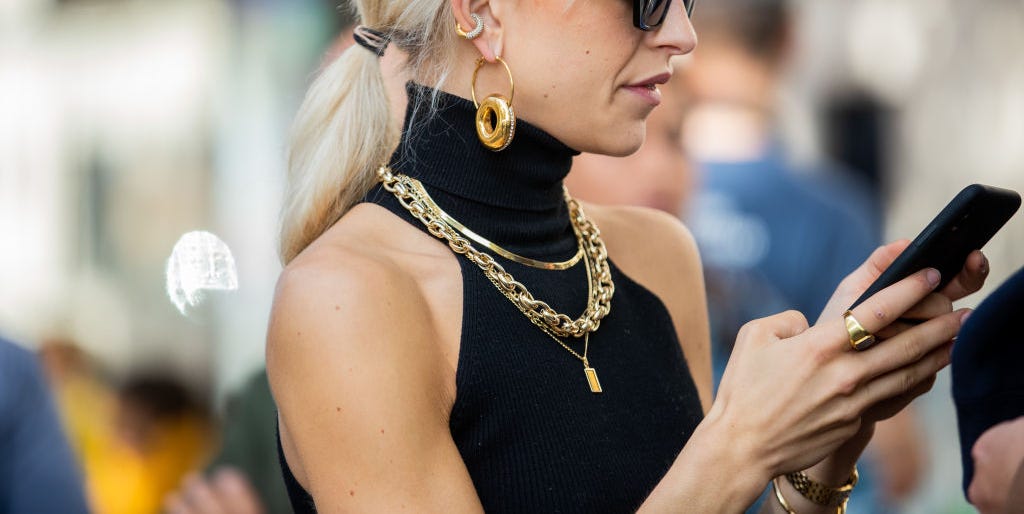 Best Jewelry at Nordstrom
Christian VierigGetty Images
Jewelry just might be the ultimate gift. Luxe by nature, suitable to wear every single day, and, not for nothing, quick and easy to wrap, there's always a piece for everyone on your shopping list (yourself included). Go bold and statement or sleek and minimalist: Every style type has something they'll want to add to their collection.
From gold-plated necklaces that work in an everyday layering situation to designer studs and a bejeweled beetle we can't stop thinking about, these are picks where we'd never ask for the gift receipt.
1
Alta Textured Chain Necklace
Staple chains are the current it-layer. They work equally well solo or with a whole pack of others. Crafted to be extra sparkly, this design has a matte finish and tiny facets on each oval link.
2
Initial Pendant Necklace
Initials are always in style, and medallions are having a particular moment.  This slightly oversized pendant combines both and is sure to become a signature piece.
3
Emerald Huggie Hoop Earring
Lizzie Mandler Fine Jewelry
End the hoop-versus-stud debate with this doubled-up style.  A single piece, the prong-set stone adds the perfect amount of sparkle.
4
Ambrosia Freshwater Pearl & Bead Choker
Playful, funky, full of personality: This one-of-a-kind choker is just-right for someone who loves color and wears it frequently.
5
DY Madison Chain Small Bracelet
The sight of classic links flashing on a wrist has long identified a fashionphile (and you can never stack too many). The presence of every-other cable twists adds to this one's allure.
6
GG Silver Stud Earrings
Silver studs are timeless; a classic monogram is eternally chic. This made-in-Italy pair of earrings is a wear-everyday type of gift they'll keep in the jewelry box for years, nay, decades.
7
Herringbone Chain Bracelet
Classic, versatile, and easy enough to leave on always, a delicate herringbone chain delights the jewelry obsessive or pure minimalist equally. 
8
Japanese Jewel Beetle Pendant Necklace
Okay, for the person who's been very, very good this year, we present a scarab stunner. With diamonds, sapphires, and garnets, this looker is breathtaking.
9
Moti Set of 2 Rings
A ring stack is stylish—and a slick of cerulean enamel hidden inside makes the whole set-up even sweeter.
10
Double-T Link Band for Apple Watch
A gift even the tech-obsessed, jewelry-meh person will appreciate, this watch band that adds elegance to the everyday (and attracts all the compliments).
11
NYC Earrings
City ride-or-dies will love this shoulder-dusting testament to NYC. Made in marbled resin, the showstoppers are also supremely lightweight to wear.
12
Liberte Pendant Necklace/Charm Bracelet
If you're shopping for someone who truly prizes versatility and the ability to style things multiple ways, we've got the gift for you. This smart style uses a gleaming lock pendant as the actual closure and can be worn as a necklace or bracelet. 
13
Hammered Large Hoop Earrings
Argento Vivo Sterling Silver
Thin, extra-large hoops are forever in style. Whether it's their first pair of hoops or their fifth, these ones will get plenty of air time.
14
March Synthetic Birthstone Choker
Birthstone jewelry isn't reserved solely for childhood. This simple pick is elegantly minimalist, working beautifully on its own or worn along other chains.
15
Dot Huggies
Spotting polka dots on jewelry feels the tiniest bit subversive in a very chic way. Gift this pair to a friend who loves dressing outside the box.
16
H.I.M. Pendant Necklace
There's a modern element to this roughly sculptured figure that makes it feel like true art. Whether it's worn every day or brought out sporadically, it'll be a forever addition to their collection.
This content is created and maintained by a third party, and imported onto this page to help users provide their email addresses. You may be able to find more information about this and similar content at piano.io